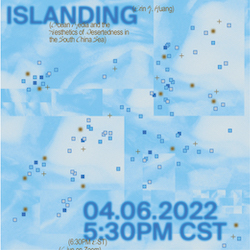 When: Wednesday, April 6, 2022
5:30 PM - 7:00 PM CT
Where: Online
Webcast Link
Audience: Faculty/Staff - Student - Public - Post Docs/Docs - Graduate Students
Cost: $0
Contact: Connie Kang

Group: Comparative Literary Studies
Category: Academic
Description:
Erin Y. Huang
(Princeton University)
"Humans can live on an island only by forgetting what an island represents," writes Gilles Deleuze in his short essay "Desert Islands." But what does an island truly represent (that for Deleuze means the constant strife between the earth's elements)? What is producing the culture of forgetting? And why do islands appear deserted even when they are inhabited? In recent years when the large-scale Chinese state-led artificial islanding (rengong zaodao) in the South China Sea created an international territorial dispute, these questions that Deleuze raised in the 1950s return as the definition of the "island" increasingly gravitates toward the "technologies of islanding" that are reshaping the operations of global financial and military power. Transforming the "island" into free treaty ports, military vessels and bases, logistics cities, and special economic zones, islanding, rather than insularity, is at the heart of the critical infrastructure of global circulation. Bringing together the methodological approaches of infrastructure and media studies and the island philosophy of Jacques Derrida and Gilles Deleuze, this talk explores a new genealogy of island critique and examines Danial Defoe's Robinson Crusoe, the contemporary American satellite surveillance network on Asian oceans (e.g., AMTI's "Island Tracker"), and the expansion of Chinese artificial islanding in the South China Sea. Rather than defining "ocean media" at the outset, this talk probes what we mean by "media" in the context of understanding capital's creation of "environments."
Erin Y. Huang is Assistant Professor of East Asian Studies and Comparative Literature at Princeton University. She is an interdisciplinary scholar and comparatist specializing in critical theory, Marxist geography, postcolonial studies, feminist theory, cinema and media studies, and Sinophone Asia. She is the author of Urban Horror: Neoliberal Post-Socialism and the Limits of Visibility (Duke University Press, 2020). Her second book project, Islands of Capital: The Aesthetic Life of Zones in Sino-Capitalism, introduces an archipelagic and oceanic approach to continental China that considers the technologies of the ocean, zoning and artificial islanding, and infrastructural expansion from the twentieth century to the present. 
This event is sponsored by the Comparative Literary Studies Program at Northwestern University.
**
This talk will be conducted in a seminar style to facilitate discussion. Attendees are strongly encouraged to read Professor Huang's recent article "Ocean Media: Digital South China Sea and Gilles Deleuze's Desert Islands" enclosed in this invitation.