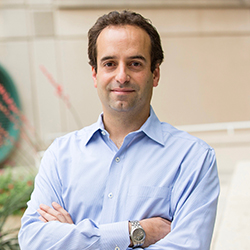 When: Tuesday, May 24, 2022
11:00 AM - 12:00 PM Central
Where: Robert H Lurie Medical Research Center, Baldwin Auditorium, 303 E. Superior, Chicago, IL 60611 map it
Audience: Faculty/Staff - Student - Post Docs/Docs - Graduate Students
Cost: free
Contact: Jodi Johnson

Group: Lurie Cancer Center Basic Science Programs
Category: Lectures & Meetings
Description:
The Lurie Cancer Center Basic Research Seminar Series presents:
Regulation and Function of Noncoding RNAs in Mammals
Joshua Mendell, MD, PhD
Charles Cameron Sprague, MD Professor and Chair in Medical Science 
Department of Molecular Biology
UT Southwestern Medical Center
Dr. Mendell investigates post-transcriptional gene regulation, noncoding RNA regulation and function, and the roles of these pathways in normal physiology, cancer, and other diseases. Using cellular and animal models, Mendell and his team focus on understanding the regulation and function of diverse classes of noncoding RNAs, including microRNAs and long noncoding RNAs. They also employ high-throughput screening approaches to interrogate diverse problems in RNA and cancer biology, such as identifying new noncoding RNAs with important roles in physiology and disease, and the mechanistic dissection of post-transcriptional regulatory pathways.
All members of the Northwestern Medicine community are invited to attend.