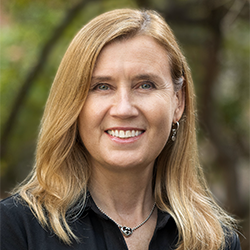 When: Monday, June 6, 2022
12:00 PM - 1:00 PM CT
Where: Simpson Querrey Biomedical Research Center, Simpson Querrey Auditorium, SQBRC 1-230, 303 E. Superior Street, Chicago, IL 60611 map it
Audience: Faculty/Staff - Student - Post Docs/Docs - Graduate Students
Contact: Sarah Alber (312) 503-7958

Group: Department of Cell and Developmental Biology
Category: Lectures & Meetings
Description:
CDB EXPERTS-IN-THE-FIELD SEMINAR PRESENTATION:
"Decoding human hematopoietic stem cell specification and self-renewal"
Hanna Mikkola, M.D., Ph.D.
Professor
Department of Molecular, Cell and Developmental Biology
Eli and Edythe Broad Center of Regenerative Medicine and Stem Cell Research
University of California, Los Angeles
Monday, June 6, 2022
12:00-1:00 PM
Location: Simpson Querrey Auditorium, SQBRC 1-230
Relevant Publications: 
Calvanese, V., Capellera-Garcia, S., Ma, F., Fares, I., Liebscher, S., Ng, E.S., Ekstrand, S., Aguadé-Gorgorió, J., Vavilina, A., Lefaudeux, D., Nadel, B., Li, J.Y., Wang, Y., Lee, L.K., Ardehali, R., Iruela-Arispe, M.L., Pellegrini, M., Stanley, E.G., Elefanty, A.G., Schenke-Layland, K., and Mikkola, H.K.A. 2022. Mapping human haematopoietic stem cells from haemogenic endothelium to birth. Nature. 604(7906):534-540. PMID: 35418685.

Calvanese, V., Nguyen, A.T., Bolan, T.J., Vavilina, A., Su, T., Lee, L.K., Wang, Y., Lay, F.D., Magnusson, M., Crooks, G.M., Kurdistani, S.K., and Mikkola, H.K.A. 2019. MLLT3 governs human haematopoietic stem-cell self-renewal and engraftment. Nature. 576(7786):281-286. PMCID: PMC7278275.

Host: Dr. Luisa Iruela-Arispe
Professor and Chair
Department of Cell and Developmental Biology    
For more information please contact cdb@northwestern.edu
To subcribe to the CDB Seminar Series listserve please visit https://www.feinberg.northwestern.edu/sites/cdb/about/contact-us/index.html