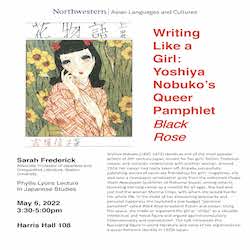 When: Friday, May 6, 2022
3:30 PM - 5:00 PM Central
Where: Harris Hall, 108, 1881 Sheridan Road, Evanston, IL 60208 map it
Audience: Faculty/Staff - Student - Public - Post Docs/Docs - Graduate Students
Contact: Department of Asian Languages and Cultures (847) 491-5288

Group: Department of Asian Languages and Cultures
Category: Academic
Description:
Phyllis Lyons Lecture in Japanese Studies.
Guest Speaker: Sarah Frederick, Associate Professor of Japanese and Comparative Literature, Boston University.
Yoshiya Nobuko (1895-1973) stands as one of the most popular writers of 20th century Japan, known for her girls' fiction, historical novels, and romantic relationship with another woman. Around 1924, her career had really taken off. Already successfully publishing stories of same-sex friendships for girls' magazines, she also won a newspaper serialization prize from the esteemed Osaka Asahi Newspaper (publisher of Natsume Soseki, among others), launching her long career as a novelist for all ages. She had also just met the woman Monma Chiyo, with whom she would live for her whole life. In the midst of her blossoming popularity and personal happiness she launched a low-budget "personal pamphlet" called Black Rose to publish fiction and essays. Using this space, she made an argument the girl or "shōjo" as a valuable intellectual and moral figure and argued against compulsory heterosexuality and reproduction. The talk introduces this fascinating figure in world literature and some of her arguments for a queer feminine identity in 1920s Japan.