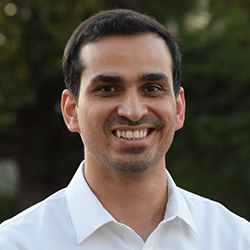 When: Friday, May 20, 2022
12:00 PM - 1:00 PM CT
Where: Ward Building, Ward 3-015 conference room, 303 E. Chicago Avenue, Chicago, IL 60611 map it
Audience: Faculty/Staff - Student - Post Docs/Docs - Graduate Students
Cost: free
Contact: Jodi Johnson

Group: Lurie Cancer Center Basic Science Programs
Category: Lectures & Meetings
Description:
The Robert H. Lurie Comprehensive Cancer Center of Northwestern University's Tumor Environment and Metastasis Program and the Skin Biology and Diseases Resource-Based Center present:
Cytosine Modifications and Alternative DNA Structures in Cellular Differentiation and Transformation
Vipul Shukla, PhD
Assistant Professor of Cell and Developmental Biology
Northwestern University
Feinberg School of Medicine
The Shukla Lab is interested in understanding how cytosine modifications and alternative structural conformations in DNA regulate functional genomic states. In his talk, Dr. Shukla will present their recent work about how the TET family of cytosine modifying enzymes regulate cellular differentiation and how loss of TET activity leads to an intriguing accumulation of G-quadruplexes and R-loops (alternative secondary DNA structures) during oncogenesis. He will also discuss recent work on how the alternative structural conformations in DNA can impact many established paradigms in genome biology and could serve as unique code for regulating genomic states.
Add to Calendar