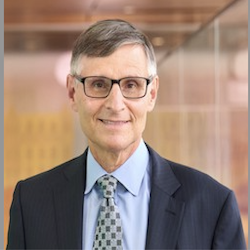 When: Monday, March 27, 2023
10:00 AM - 11:00 AM CT
Where: Simpson Querrey Biomedical Research Center, Simpson Querrey Auditorium, 303 E. Superior Street, Chicago, IL 60611 map it
Audience: Faculty/Staff - Student - Post Docs/Docs - Graduate Students
Contact: Beverly A Kirk (312) 503-5217

Group: Simpson Querrey Institute for Epigenetics Distinguished Lectureship
Category: Lectures & Meetings
Description:
The Simpson Querrey Institute for Epigenetics presents:
Benjamin G. Neel, PhD

Professor of Medicine, NYU School of Medicine
Director, Laura and Isaac Perlmutter Cancer Center, NYC
"New Approaches to Targeting the RAS Pathway "
Mutations that affect KRAS activation or its downstream signaling pathways are the most common driver abnormalities in human cancer. Targeted therapies have been developed against multiple components of this critical signaling cascade, including RTK inhibitors and blocking antibodies (e.g., against EGFR), and inhibitors of SHP2/PTPN11, SOS1, RAFV600E, MEK, and ERK. Recently, even certain alleles of KRAS (e.g., KRASG12C) have been targeted successfully, and one such inhibitor, sotorasib (AMG510) has been approved as second line therapy for KRASG12C-mutant non-small cell lung cancer (NSCLC). Although these inhibitors can cause tumor regressions and even complete responses, disease always recurs and cure is elusive. Immune therapies (e.g., checkpoint inhibitors, CAR-T cells) can be curative in select settings, yet most tumors fail to respond completely or at all. Nevertheless, these data raise the possibility that all cancer cures, whether induced empirically (e.g., by chemo-/radiotherapy) or intentionally (via "immune therapies) reflect the development of a robust anti-cancer immune response. If so, then progress in anti-cancer therapeutics will likely require a detailed understanding of mechanisms of resistance to targeted therapies and the effects of these therapies on the tumor microenvironment, as well as new immune therapeutic agents and/or combinations of existing targeted and immune therapy agents. I will present recent work from our group that exemplify these goals, including the delineation of cell-autonomous resistance mechanisms to SHP2 inhibitors, a novel combined targeted/immune therapy strategy for KRAS-mutant NSCLC, and an entirely new therapeutic strategy (HapImmuneTM) that unites targeted and immune therapies by creating neoantigens by design.