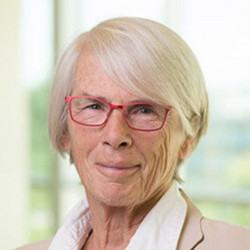 When: Wednesday, September 14, 2022
3:30 PM - 4:30 PM CT
Where: Simpson Querrey Biomedical Research Center, Simpson-Querrey Auditorium, 303 E. Superior Street, Chicago, IL 60611 map it
Audience: Faculty/Staff - Student - Post Docs/Docs - Graduate Students
Contact: Lisa Rawlani

Group: Center for Human Immunobiology (CHI)
Category: Lectures & Meetings
Description:
Join the Center for Human Immunobiology for our Inaugural Lectureship Series. We are pleased to welcome Philippa Marrack, PhD, FRS to kick off CHI's Distinguished Lectureship Series. 
Guest Speaker Information:
Philippa Marrack, PhD, FRS
National Jewish Health

Chair, Department of Immunology and Genomic Medicine
Distinguished Professor


Dr. Marrack's area of research is in Basic Immunology and her lab and her work over the years has focused on T cells. T cells are amongst the cells which recognize that an infection is occurring in the body. They accomplish this in an unexpected way, by reacting with fragments of the infection bound to special proteins of the body, the MHC proteins. Dr. Marrack's lab is trying to find out how T cells learn to react in this way. They are also interested in the ways in which T cells are prevented from attacking MHC proteins bound to fragments of their own host. In most people such attack is efficiently avoided. However, in some individuals T cells do react in this way, and this event causes autoimmune diseases such as rheumatoid arthritis and juvenile diabetes.