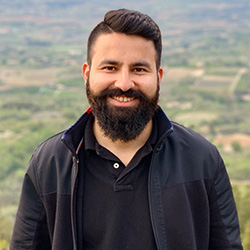 When: Tuesday, September 13, 2022
12:00 PM - 1:00 PM CT
Where: Online
Audience: Faculty/Staff - Student - Post Docs/Docs - Graduate Students
Contact: Vanessa G (312) 503-7959

Group: Department of Cell and Developmental Biology
Category: Lectures & Meetings
Description:
CDB Special Seminar:
"Neural crest at the 'heart' of development: unraveling multifaceted regulation of cell fate"
Shashank Gandhi, PhD,
UC Berkeley, Miller Institute for Basic Research in Science
Tuesday, September 13, 12:00 - 1:00 PM Central Time
Please email cdb@northwestern.edu for zoom details.
Abstract:
During early embryogenesis, the fertilized egg gradually segregates into distinct cellular lineages or "germ layers." Many organs ultimately receive contributions from more than one of these germ layers, highlighting the critical role of interactions between different cell types in proper development. The heart is a notable example of this intricate process, being originally derived from the mesoderm but eventually receiving input from an ectodermal cell type known as the neural crest, an embryonic stem cell population characterized by its broad migratory and differentiative ability. Several distinct subsets of neural crest cells exist along the body axis, where they originate at the lateral edges of the developing central nervous system. One of these, dubbed the "cardiac" neural crest, has the unique ability to migrate into the heart and form cardiovascular derivatives. Aberrations in or removal of the cardiac neural crest lead to detrimental congenital heart defects.
In my talk, I will describe the multifaceted regulatory mechanisms that drive different stages of neural crest development. I will start by elucidating the mechanisms by which a specific chromatin remodeler directly regulates both neural crest formation and emigration, thereby driving the fate switch that distinguishes the neural crest from neural lineages. Next, I will focus on how neural crest axial level identity is intrinsically regulated. Specifically, I will discuss my work on the discovery and characterization of a cardiac-neural-crest-specific regulatory program capable of reprogramming other neural crest subpopulations towards a cardiac-crest-like fate. I will also share evidence of possible fate restriction within a subset of the cardiac neural crest. Finally, I will present in vitro tools I am currently developing to quantitatively map the interactions of the neural crest with mesodermal cell types, which will enable investigation of the role of cell-cell interactions in extrinsic regulation of cell fate. Taken together, by integrating both intrinsic and extrinsic mechanisms underlying cell fate decisions, my future lab will forge a holistic understanding of how the neural crest contributes to organogenesis.