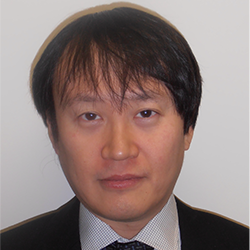 When: Thursday, August 18, 2022
1:00 PM - 2:00 PM CT
Where: Robert H Lurie Medical Research Center, Baldwin Auditorium, Lurie 1-123, 303 E. Superior, Chicago, IL 60611 map it
Audience: Faculty/Staff - Student - Post Docs/Docs - Graduate Students
Contact: Cell & Developmental Biology Department (312) 503-7959

Group: Department of Cell and Developmental Biology
Category: Lectures & Meetings
Description:
CDB EXPERTS-IN-THE-FIELD SEMINAR PRESENTATION: 
"Dynamics of nucleoplasmic lamin C in repair of nuclear envelope rupture"
Takeshi Shimi, Ph.D.
Specially Appointed Associate Professor
Cell Biology Center, Institute of Innovative Research
Tokyo Institute of Technology, Japan
Thursday, August 18, 2022
1:00–2:00 PM
Baldwin Auditorium, Lurie 1-123
Relevant Publications: 
Kittisopikul, M.*, Shimi, T.*, Tatli, M., Tran, J.R., Zheng, Y., Medalia, O., Jaqaman, K., Adam, S.A., and Goldman, R.D. 2021. Computational analyses reveal spatial relationships between nuclear pore complexes and specific lamins. J Cell Biol. 220(4):e202007082. PMCID: PMC7883741. *contributed equally
Kono, Y., Adam, S.A., Reddy, K.L., Zheng, Y., Medalia, O., Goldman, R.D., Kimura, H., and Shimi, T. 2022. Nucleoplasmic Lamin C rapidly accumulates at sites of nuclear envelope rupture with BAF and cGAS. bioRxiv. doi: https://doi.org/10.1101/2022.01.05.475028.
Host: Dr. Brian Mitchell
Associate Professor
Department of Cell and Developmental Biology
For more information, please contact cdb@northwestern.edu
To subscribe to the CDB Seminar Series listserv, please visit https://www.feinberg.northwestern.edu/sites/cdb/about/contact-us/index.html