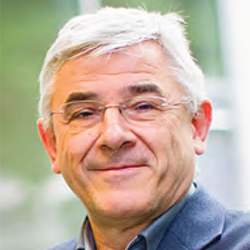 When: Tuesday, August 9, 2022
11:00 AM - 12:00 PM CT
Where: Simpson Querrey Biomedical Research Center, Simpson Querrey Auditorium, SQBRC 1-230, 303 E. Superior Street, Chicago, IL 60611 map it
Audience: Faculty/Staff - Student - Post Docs/Docs - Graduate Students
Contact: Cell & Developmental Biology Department (312) 503-7959

Group: Department of Cell and Developmental Biology
Category: Lectures & Meetings
Description:
Robert H. Lurie Comprehensive Cancer Center of Northwestern University
Basic Research Seminar
Lurie Cancer Center's TEAM Program and Northwestern's Department of Cell and Developmental Biology present: 
"Vascular Control of Tumor Progression and Metastasis"
Hellmut G. Augustin, DVM, PhD
Professor and Director
Joint Research Division Vascular Biology,
European Center for Angioscience (ECAS)
Medical Faculty, Mannheim, Heidelberg University, and
German Cancer Research Center Heidelberg (DKFZ-ZMBH-Alliance)
Tuesday, August 9, 2022
11:00 AM–12:00 PM
Simpson Querrey Auditiorium, SQBRC 1-230
All members of the Northwestern Medicine community are invited to attend.
Abstract: 
Blood vessels control organ function during health and disease through instructive (angiocrine) signaling mechanisms. They thereby serve as critical gatekeeper of local and systemic homeostasis and are decisive for lifespan and healthspan. The Augustin lab (www.augustinlab.de) studies angiocrine signaling mechanisms during the life cycle of a vasculature (blood vessel formation, assembly, maturation, quiescence, regression, aging) with a particular focus on tumor-vessel interactions that govern tumor progression and metastasis. Basic discovery research feeds translational research with the goal of identifying and validating novel therapeutic targets as well as laying the preclinical proof-of-concept for novel treatment modalities and therapeutic windows, including neoadjuvant and adjuvant therapy.
Host: Dr. Luisa Iruela-Arispe
Stephen Walter Ranson Professor and Chair,
Department of Cell and Developmental Biology
Feinberg School of Medicine
For more information, please contact cdb@northwestern.edu
To subscribe to the CDB Seminar Series listserv, please visit
https://www.feinberg.northwestern.edu/sites/cdb/about/contact-us/index.html