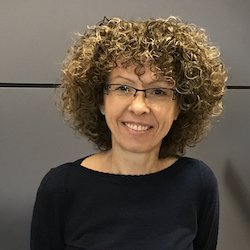 When: Thursday, November 3, 2022
10:00 AM - 11:00 AM CT
Where: Simpson Querrey Biomedical Research Center, Simpson Querrey Auditorium, 303 E. Superior Street, Chicago, IL 60611 map it
Audience: Faculty/Staff - Student - Post Docs/Docs - Graduate Students
Contact: Linda Mekhitarian Jackson (312) 503-5229

Group: Biochemistry & Molecular Genetics Seminar Series
Category: Lectures & Meetings
Description:
The Department of Biochemistry & Molecular Genetics presents:
Tatiana Kutateladze, PhD
Professor, Department of Pharmacology
University of Colorado School of Medicine
Presentation: "Molecular mechanisms of epigenetic regulation"
Abstract:
Posttranslational modifications (PTMs) of histone proteins and covalent modifications of DNA are major components of the epigenetic machinery that regulates chromatin structure, gene transcription, and DNA replication and repair. The PTMs alter direct interactions between histones and DNA and serve as docking sites for histone-binding domains, referred to as epigenetic effectors, or simply "readers" of PTMs. Here, I will detail the molecular mechanisms and biological roles of the readers that select for methylated, acetylated, and unmodified histone H3 tails. I will compare specificities and discuss the significance of crosstalk between PTMs and the consequence of combinatorial readout for the recruitment of these readers to chromatin.
Host: Dr. Shannon Lauberth, Associate Professor, Biochemistry and Molecular Genetics