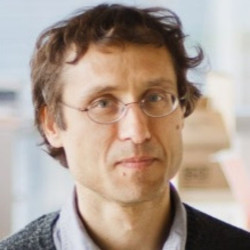 When: Wednesday, March 22, 2023
3:30 PM - 4:30 PM Central
Where: Online
Webcast Link
Audience: Faculty/Staff - Student - Post Docs/Docs - Graduate Students
Contact: Lisa Rawlani

Group: Center for Human Immunobiology (CHI)
Category: Lectures & Meetings
Description:
Join the Center for Human Immunobiology for our Innaugural Year of Lectureship Series. 
Guest Speaker Information:
Jason Cyster, PhD
Professor & Vice Chair, Microbiology and Immunology
University of California, San Francisco

Howard Hughes Investigator
Dr. Cyster is an Investigator of the Howard Hughes Medical Institute and Professor and Vice-Chair in the Department of Microbiology and Immunology at the University of California, San Francisco. He graduated from the University of Western Australia with a BSc Honors degree in Biochemistry and Microbiology and completed a DPhil (or PhD) in Immunology at the University of Oxford in the laboratory of Alan Williams. He was a postdoctoral fellow in immunology at Stanford University with Christopher Goodnow and he joined the faculty at UCSF in 1995. Dr. Cyster is internationally recognized for defining how lymphoid microenvironments are organized to support adaptive immunity. His lab played a key role in the discovery of lymphoid tissue chemokines and established the concept that chemokines continuously guide cells to supportive niches. Dr. Cyster's group led the way in defining how cells exit from lymphoid organs, a process essential for immune function. His team established the egress-promoting role of sphingosine-1-phosphate and identified the mechanism of action of key egress regulators. He has been a leader in applying two-photon microscopy to unraveling antigen-encounter and immune cell migration dynamics. He received the 2005 AAI BD Biosciences Investigator Award in Recognition of Outstanding Contributions in Immunology and the 2018 AAI Biolegend Herzenberg Award for outstanding contributions in B cell biology. He was elected to the National Academy of Sciences in 2014 and the American Academy of Arts and Sciences in 2018.