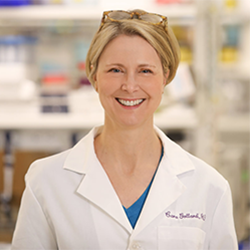 When: Wednesday, October 19, 2022
12:00 PM - 1:00 PM CT
Where: Simpson Querrey Biomedical Research Center, Simpson Querrey Auditorium, SQ 1-230, 303 E. Superior Street, Chicago, IL 60611 map it
Audience: Faculty/Staff - Student - Post Docs/Docs - Graduate Students
Contact: Cell & Developmental Biology Department (312) 503-7959

Group: Department of Cell and Developmental Biology
Category: Lectures & Meetings
Description:
CDB Faculty Seminars Presents:
"Epithelial junction regulation in dividing cells"
Cara Gottardi, Ph.D.
Associate Professor
Department of Medicine, Division of Pulmonary and Critical Care
Wednesday, October 19, 2022
12:00–1:00 PM
Simpson Querrey Auditorium, SQ 1-230
Abstract: 
Cell-cell cohesion is a defining feature of multicellular organisms, and a number of disease states--from cancer to heart disease-- are driven by defects in the structural "Velcro" that holds cells to one another. While the cadherin/catenin adhesion system is widely viewed as a master regulator of this adhesive "Velcro", how this complex is regulated to bring about static versus fluid forms of cell-cell adhesion remains poorly understood. I will provide evidence for how the critical actin-binding component in this complex, alpha-catenin, is regulated by both chemical and mechanical signals to coordinate tissue behaviors. I will focus on alpha catenin regulation during cell division, where aberrant mechano-activation contributes to cytokinesis failure and polyploidy. This model may be relevant to age-associated butterfly-shape pigment eye dystrophies and injury-induced polyploidization events that facilitate epithelial repair.
For more information please contact cdb@northwestern.edu
Click here to subcribe to the CDB Seminar Series listserv.