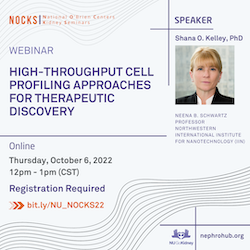 When: Thursday, October 6, 2022
12:00 PM - 2:00 PM CT
Where: Online
Webcast Link
Audience: Faculty/Staff - Student - Public - Post Docs/Docs - Graduate Students
Contact: Esmeralda Liz

Group: Med - Nephrology
Category: Lectures & Meetings, Grand Rounds
Description:
Northwestern will be hosting the October 2022 Zoom-based, National O'Brien Center Kidney Seminars (or NOCKS) on Thursday, October 6th from 12 PM – 1 PM (CST)  
Speaker: Shana O. Kelley, PhD
Title: High-throughput cell profiling approaches for therapeutic discovery 
Dr. Shana Kelley is a Distinguished Professor of Biochemistry, Pharmaceutical Sciences, Chemistry, and Biomedical Engineering at the University of Toronto. Dr. Kelley received her Ph.D. from the California Institute of Technology and was a NIH postdoctoral fellow at the Scripps Research Institute. Her research interests are the development of new technologies for clinical diagnostics and drug delivery. Dr. Kelley's work has been recognized with a variety of distinctions, including being named one of 'Canada's Top 40 under 40′, a NSERC E.W.R. Steacie Fellow, and the 2011 Steacie Prize. She has also been recognized with the Pittsburgh Conference Achievement Award, an Alfred P. Sloan Research Fellowship, a Camille Dreyfus Teacher-Scholar award, a NSF CAREER Award, a Dreyfus New Faculty Award, and was also named a "Top 100 Innovator" by MIT's Technology Review. She is a founder of two molecular diagnostics companies, GeneOhm Sciences (acquired by Becton Dickinson in 2005) and Xagenic Inc.