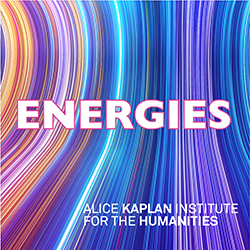 When: Tuesday, October 25, 2022
5:00 PM - 6:30 PM Central
Where: Harris Hall, Room 108, 1881 Sheridan Road, Evanston, IL 60208 map it
Audience: Faculty/Staff - Student - Public - Post Docs/Docs - Graduate Students
Cost: Free and public welcome!
Contact: Jill Mannor (847) 467-3970

Group: Alice Kaplan Institute for the Humanities
Co-Sponsor: African American Studies Department

Category: Academic
Description:
Academic Energies: A Conversation Beyond Coping 
Fall Keynote of the Kaplan Humanities Institute's 2022-2023 Dialogue, ENERGIES: A year-long conversation about energies—personal, collective, planetary—from different humanistic perspectives.
As we begin a new school year three years into a global pandemic and worldwide turmoil, how might we move in, through, and beyond academic cynicism and exhaustion? How can we rethink academic energies to reach a more sustainable and capacious notion of scholarly work alongside a life well lived? How have faculty revisited the question of "work-life balance"? This conversation between invited speaker Tina Chen and Nitasha Tamar Sharma will address these questions with a particular focus on academic labor, the gender and racial dynamics of service and family care, and the challenging structures of colleges and universities today. We hope this conversation joins discussions that others in and out of the academy are having about the possibilities of a changing university and new approaches to the oft-competing priorities that shape our lives.
About the speakers
Tina Chen is Associate Professor of English and Asian American Studies at Penn State University where she is also Director of the Global Asias Initiative. She is the Founding Editor of Verge: Studies in Global Asias. She is the mother of a college freshman, someone who lives with breast cancer, and a scholar-teacher committed to developing platforms that encourage multidisciplinary engagement and the cross-pollination of knowledge across disciplinary and field boundaries. She is currently working on Alien Forms: Global Asias and the Speculative Genres of Academic Labor, a monograph that questions the ways in which academic labor has been parsed into the categories of "research, teaching, and service" and argues for a more expansive notion of scholarly work. 
Nitasha Tamar Sharma is the mother of two young children and a professor of African American Studies and Asian American Studies at Northwestern. She is the author or co-editor of four books and is an Associate Editor of American Quarterly. At Northwestern, Nitasha is the director of the Asian American Studies Program and co-director of the Council for Race and Ethnic Studies.