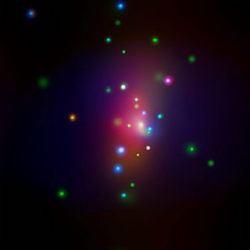 When: Wednesday, February 1, 2023
12:30 PM - 1:30 PM CT
Where: 1800 Sherman Avenue, CIERA Cafe, Evanston, IL 60201 Evanston map it
Audience: Faculty/Staff - Student - Post Docs/Docs - Graduate Students
Contact: CIERA (847) 491-8646

Group: CIERA - Observational Astronomy Meetings
Category: Lectures & Meetings
Description:
Wednesday Observational Meetings for Northwestern University's Center for Interdisciplinary Exploration and Research in Astrophysics (CIERA), this week featuring:
Michael Foley (Harvard, remote)
Title: Building a 3D Model of Our Local ISM
Abstract: Our understanding of our local galaxy has been completely transformed by Gaia. In this talk, I will explain how we have used 3D data products derived from Gaia to build the first 3D model of our local ISM. Recent results include high-resolution 3D models of the Orion, Perseus, and Taurus star-forming regions; the Radcliffe Wave; and the Local Bubble. Building on these models, we have been able to construct new theories about the history of stellar feedback in the local ISM, even connecting our data with evidence supporting supernova explosion times from the geological record on Earth. I will conclude with a discussion of new simulations to contextualize our observational results and provide outlook for future 3D studies in our local ISM. 
Future Meetings Discussion