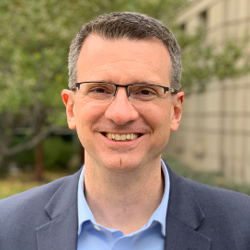 When: Wednesday, October 12, 2022
12:00 PM - 1:00 PM CT
Where: Chambers Hall, Lower Level, 600 Foster St, Evanston, IL 60208 map it
Audience: Faculty/Staff - Student - Public - Post Docs/Docs - Graduate Students
Cost: Free
Contact: Emily Rosman (847) 491-2527

Group: Northwestern Institute on Complex Systems (NICO)
Category: Academic, Lectures & Meetings
Description:
Speaker:
Dewey Murdick - Director, Center for Security and Emerging Technology (CSET), Georgetown University
Title:
Enhancing data-informed technology security policy analysis
Abstract:
The Georgetown Center for Security and Emerging Technology (CSET) aims to connect policymakers to high-quality analysis of emerging technologies and their security implications. I will briefly introduce you to our work and will dig into the data-driven infrastructure that supports this capability. I will introduce our Emerging Technology Observatory and applied data science research projects that support our policy analysis. I will especially mention our work to better understand how basic and applied research can be connected with their future applications and potential societal impact. 
Speaker Bio:
Dewey Murdick is the Director at Georgetown's Center for Security and Emerging Technology (CSET). He serves as an unpaid advisor to several organizations: the OECD Network of Experts on AI (ONE AI); Global Partnership on AI (GPAI) Data Governance Working Group; the Center for a New American Security (CNAS) Task Force on AI and National Security; and CEIMIA, where he is a member of the board of directors. Prior to joining CSET as its founding Director of Data Science, he was the Director of Science Analytics at the Chan Zuckerberg Initiative, where he led metric development, data science, and machine learning and statistical research for scientist-facing products and science-related initiatives. Dewey served as Chief Analytics Officer and Deputy Chief Scientist within the Department of Homeland Security. At the Intelligence Advanced Research Projects Activity (IARPA), he co-founded an office in anticipatory intelligence and led programs in high-risk, high-payoff research in support of national security missions. He has also held positions in intelligence analysis, research, software development and contract teaching.
Dewey's research interests include connecting research and emerging technology to future capabilities, emerging technology forecasting, strategic planning, research portfolio management and policymaker support. He holds a Ph.D. in Engineering Physics from the University of Virginia and a B.S. in Physics from Andrews University.
Location:
In person: Chambers Hall, 600 Foster Street, Lower Level
Remote option: https://northwestern.zoom.us/j/97787761062
Passcode: NICO22
About the Speaker Series:
Wednesdays@NICO is a vibrant weekly seminar series focusing broadly on the topics of complex systems and data science. It brings together attendees ranging from graduate students to senior faculty who span all of the schools across Northwestern, from applied math to sociology to biology and every discipline in-between. Please visit: https://bit.ly/WedatNICO for information on future speakers.