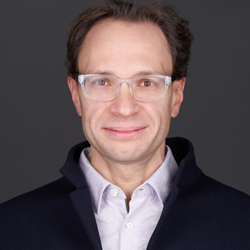 When: Wednesday, November 2, 2022
12:00 PM - 1:00 PM Central
Where: Chambers Hall, Lower Level, 600 Foster St, Evanston, IL 60208 map it
Audience: Faculty/Staff - Student - Public - Post Docs/Docs - Graduate Students
Cost: Free
Contact: Emily Rosman (847) 491-2527

Group: Northwestern Institute on Complex Systems (NICO)
Category: Academic, Lectures & Meetings
Description:
Speaker:
Joshua B. Plotkin - Annenberg Professor of Natural Sciences, University of Pennsylvania
Title:
Measuring evolutionary forces of cultural change
Abstract:
I will describe how to measure forces driving cultural change, using inference tools from evolutionary theory. We study time series data from large corpora of parsed English texts to identify what drives language change over the course of centuries. And we measure frequency-dependent effects in time-series of baby names and purebred dog preferences over the past century. The negative frequency dependence we infer among names explains their diversity patterns, and it replicates across the United States, France, Norway and the Netherlands. We find different growth rates for male versus female names, attributable to different rates of innovation, whereas biblical names enjoy a genuine selective advantage at all frequencies. Frequency dependence emerges from a host of underlying selective mechanisms, including a preference for novelty that recapitulates boom-bust fads among dog owners. Analyzing cultural evolution through frequency-dependent selection provides a quantitative account of social pressures to conform or to be different.
Speaker Bio:
Joshua Plotkin uses mathematics and computation to study questions in evolutionary biology and ecology.  Research in the Plotkin group is concerned primarily with adaptation in populations. Related interests include the evolution of robustness and adaptability, the evolutionary ecology of viral populations, the evolution of cooperation, conflict, coalitions, and group decision-making. 
Location:
In person: Chambers Hall, 600 Foster Street, Lower Level
Remote option: https://northwestern.zoom.us/j/91997079786
Passcode: NICO22
About the Speaker Series:
Wednesdays@NICO is a vibrant weekly seminar series focusing broadly on the topics of complex systems and data science. It brings together attendees ranging from graduate students to senior faculty who span all of the schools across Northwestern, from applied math to sociology to biology and every discipline in-between. Please visit: https://bit.ly/WedatNICO for information on future speakers.