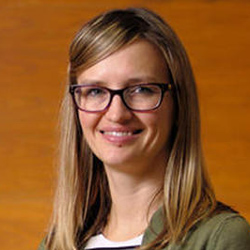 When: Wednesday, November 16, 2022
12:00 PM - 1:00 PM Central
Where: Kellogg Global Hub, 1120, 2211 Campus Drive, Evanston, IL 60208 map it
Audience: Faculty/Staff - Student - Public - Post Docs/Docs - Graduate Students
Cost: Free
Contact: Emily Rosman (847) 491-2527

Group: Northwestern Institute on Complex Systems (NICO)
Category: Academic, Lectures & Meetings
Description:
Speaker:
Amanda Melin - Associate Professor and Canada Research Chair, University of Calgary
Title:
Plasticity and adaptation of capuchin monkeys examined through behaviour, microbes, and genes
Abstract:
Adaptation to changing environments shapes the genetic and phenotypic diversity of organisms over evolutionary time. Animals also face changing environments throughout the course of their lifetime, and plasticity in behaviours, gene expression, and microbes helps them survive these short-term shifts. In my talk, I discuss adaptation and plasticity in a highly flexible, long-lived, social primate, the capuchin monkey. I introduce several of our collaborative field and lab studies, which integrate 40 years of behavioural and demographic study of white-faced capuchins (Cebus imitator) in Sector Santa Rosa, Costa Rica, with recent genomics analyses of capuchins and their gut microbiomes. This includes analysis across seasons, years, populations, and in comparative context with other mammalian species. By using different approaches and tools that span behavioural ecology, demography, and the 'omics of hosts and their commensal organisms, we can better understand how adaptation and plasticity have shaped the form and function of our close relatives, and generate new insight into the forces shaping our own evolutionary history and present-day variation. 
Speaker Bio:
Amanda Melin's lab is involved in a broad range of research situated at the intersection of behaviour, sensory ecology, and dietary outcomes of nonhuman and human primates. We take an integrative approach to answering questions about primate origins and evolution, melding study of sensory systems with molecular ecology, microbiome analysis, metagenomics and field observations of primates.
Location:
Note we are meeting in a different location this week:
In person: Kellogg Global Hub, 2211 Campus Drive, Room 1120
Remote option: https://northwestern.zoom.us/j/95713083124
Passcode: NICO22
About the Speaker Series:
Wednesdays@NICO is a vibrant weekly seminar series focusing broadly on the topics of complex systems and data science. It brings together attendees ranging from graduate students to senior faculty who span all of the schools across Northwestern, from applied math to sociology to biology and every discipline in-between. Please visit: https://bit.ly/WedatNICO for information on future speakers.