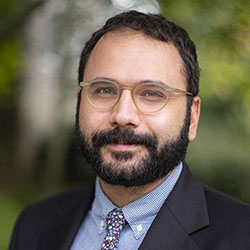 When: Monday, October 3, 2022
12:30 PM - 1:45 PM CT
Where: Kresge Hall, Trienens Forum, Room 1515, 1880 Campus Drive, Evanston, IL 60208 map it
Audience: Faculty/Staff - Student - Public - Post Docs/Docs - Graduate Students
Contact: MENA

Group: Middle East and North African Studies
Category: Lectures & Meetings, Academic, Multicultural & Diversity, Global & Civic Engagement
Description:
Join us for this week's MENA Monday event. Lunchboxes will be available at noon if attendees would like to eat before the talk. This event will be in person, but there is also a Zoom option. Click the Register button below for the Zoom link.
Speaker: Osman Balkan, Political Science, Swarthmore College
Talk Title: The Political Afterlives of Migration 
How do European Muslims navigate end-of-life decisions in countries where they face systematic barriers to political inclusion and equal social standing? This talk explores the complex negotiations surrounding the death and burial of Muslim minorities in Germany. Drawing on long-term ethnographic research in Berlin and Istanbul, which included immersive participant-observation of the Islamic funeral industry, it demonstrates how burial decisions reflect divergent ideas about citizenship, belonging, and identity. While some Muslims are interred in local cemeteries, many more are repatriated to countries of origin to be laid to rest in ancestral soils. Through interviews with Muslim deathcare workers and community members, it theorizes the significance and symbolic value that such posthumous journeys carry in post-migratory settings and demonstrates that the Muslim corpse embodies a range of overlapping desires and expectations connected to histories of migration and return, as well as attitudes toward death and beliefs about the afterlife. 
Osman Balkan is Visiting Assistant Professor of Political Science at Swarthmore College. His research and teaching interests cohere around the politics of borders and migration, race and ethnicity, identity and inequality, transnational Islam, and necropolitics, with a transregional focus on Western Europe, North Africa, and the Middle East. His work has appeared in Comparative Studies of South Asia, Africa, and the Middle East, Studies in Ethnicity and Nationalism, Journal of Intercultural Studies, Contemporary French Civilization, in edited volumes such as The Democratic Arts of Mourning and Turkey's Necropolitical Laboratory, and in public outlets like the SSRC's Immanent Frame and Project on Middle East Political Science. His first book, Dying Abroad: The Political Afterlives of Migration in Europe, will be published by Cambridge University Press in 2023 as part of the LSE International Studies Series.