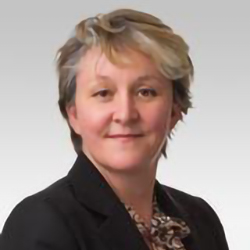 When: Monday, October 3, 2022
12:00 PM - 1:00 PM CT
Where: Baldwin Auditorium Chicago
Audience: Faculty/Staff - Student - Post Docs/Docs - Graduate Students
Cost: free
Contact: Jodi Johnson

Group: Lurie Cancer Center Clinical Sciences Research Programs
Category: Lectures & Meetings
Description:
The Translational Research in Solid Tumors (TRIST) Program presents:
Translational Immuno-oncology for Central Nervous System Tumors
Amy Heimberger, MD, PhD
Vice Chair for Research, Department of Neurological Surgery
Professor of Neurological Surgery
Northwestern University Feinberg School of Medicine
Dr. Heimberger's lab works to elucidate mechanisms of tumor-mediated immune suppression and identify actionable targets for immune therapeutics. Her laboratory was pivotal in the development of a peptide vaccine strategy that targets the EGF receptor. They also clarified that glioma-associated cancer stem cells potentiate gliomagenesis via the STAT3 pathway by exerting immune suppressive properties on both the adaptive and innate arms of the immune system. After pre-clinical development in Dr. Heimberger's lab, a novel small molecule inhibitor of STAT3 was introduced into clinical trials in 2018 for melanoma patients with central nervous system metastasis and primary glioma patients.