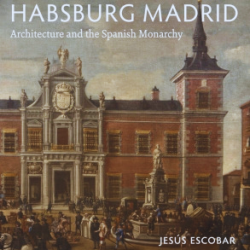 When: Tuesday, October 18, 2022
12:30 PM - 2:00 PM Central
Where: Crowe Hall, 1-132, 1860 Campus Drive, Evanston, IL 60208 map it
Audience: Faculty/Staff - Student - Public - Post Docs/Docs - Graduate Students
Cost: FREE
Contact: Tiffany Williams-Cobleigh

Group: Latin American and Caribbean Studies
Category: Academic
Description:
Please join us for the first meeting of the 2022-2023 academic year for a forum on LACS faculty affiliate Jesús Escobar's recently-published book Habsburg Madrid:
Architecture and the Spanish Monarchy (Penn State University Press).
Joining Professor Escobar will be:
Felipe Pereda (Harvard University) | Matthew Johnson (Northwestern) | Paul Ramírez (Northwestern) | co-sponsored by Art History
About the Book:
With its selection as the court of the Spanish Habsburgs, Madrid became the de facto capital of a global empire, a place from which momentous decisions were made whose implications were felt in all corners of a vast domain. By the seventeenth century, however, political theory produced in the Monarquía Hispánica dealt primarily with the concept of decline. In this book, Jesús Escobar argues that the buildings of Madrid tell a different story about the final years of the Habsburg dynasty.
Madrid took on a grander public face over the course of the seventeenth century, creating a "court space" for residents and visitors alike. Drawing from the representation of the city's architecture in prints, books, and paintings, as well as re-created plans standing in for lost documents, Escobar demonstrates how, through shared forms and building materials, the architecture of Madrid embodied the monarchy and promoted its chief political ideals of justice and good government. Habsburg Madrid explores palaces, public plazas, a town hall, a courthouse, and a prison, narrating the lived experience of architecture in a city where a wide roster of protagonists, from architects and builders to royal patrons, court bureaucrats, and private citizens, helped shape a modern capital.
Richly illustrated, highly original, and written by a leading scholar in the field, this volume disrupts the traditional narrative about seventeenth-century Spanish decadencia. It will be welcomed by specialists in Habsburg Spain and by historians of art, architecture, culture, economics, and politics.
co-sponsored by Art History