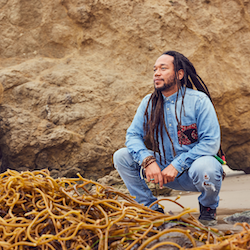 When: Tuesday, November 1, 2022
12:30 PM - 1:30 PM Central
Where: Crowe Hall, 1-132, 1860 Campus Drive, Evanston, IL 60208 map it
Audience: Faculty/Staff - Student - Public - Post Docs/Docs - Graduate Students
Cost: FREE
Contact: Tiffany Williams-Cobleigh

Group: Latin American and Caribbean Studies
Co-Sponsor: Anthropology Department

Category: Academic
Description:
Have Confidence in the Sea: Archaeologies of Marronageco-sponsored by African-American Studies and Anthropology
Dunnavant will discuss how archaeology has contributed to our understanding of marronage in the Atlantic world. Drawing from contemporary LiDAR and geospatial data in St. Croix and former Danish West Indies, Dunnavant shows how newer archaeological methods expand our understanding of maroon geographies and ecologies while also turning our attention toward maritime seascapes.
Theoretically, the work engages scholars in Black Geographies to think more critically about the sea/ocean as a site of history, memory, placemaking, and liminality, phenomenologically positioning bodies of water and seafaring vessels as a (de)generative space of Black Atlantic sociality and possibility. We can bridge terrestrial and maritime experiences by employing various "archaeologies" of marronage.
Dr. Justin Dunnavant is an Assistant Professor in the Department of Anthropology at UCLA. His current research in the US Virgin Islands investigates the relationship between ecology and enslavement in the former Danish West Indies. In addition to his archaeological research, Justin is co-founder of the Society of Black Archaeologists and an AAUS Scientific SCUBA Diver. In 2021, he was named a National Geographic Emerging Explorer and inducted into The Explorers Club as one of "Fifty People Changing the World that You Need to Know About." This year, he was awarded the 2022 Stafford Ellison Wright Black Alumni Scholar-in-Residence at Occidental College. His research has been featured on Netflix's "Explained," Hulu's "Your Attention Please" and in print in American Archaeology, Science Magazine, and National Geographic Magazine.
Lunch will be provided