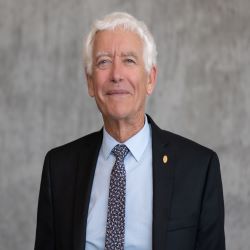 When: Friday, February 17, 2023
10:00 AM - 11:00 AM CT
Where: Simpson Querrey Biomedical Research Center, Simpson Querrey Auditorium, 303 E. Superior Street, Chicago, IL 60611 map it
Audience: Faculty/Staff - Student - Post Docs/Docs - Graduate Students
Contact: Beverly A Kirk (312) 503-5217

Group: Simpson Querrey Institute for Epigenetics Distinguished Lectureship
Category: Lectures & Meetings
Description:
The Simpson Querrey Institute for Epigenetics presents:
Peter Jones, PhD, DSc (hon)

Chief Scientific Officer
Van Andel Institute, Grand Rapids, MI
"Deciphering the Mechanisms and Roles of DNA Methylation in Cancer"
DNA methylation is essential for mammalian embryonic and post-natal development. Mutations in the de novo DNA methyltransferase DNMT3A, which is expressed as two isoforms, DNMT3A1 and DNMT3A2, cause abnormal brain development in children and clonal hematopoiesis in older individuals. Additionally, DNA methylation patterns are profoundly altered in all human cancers in the absence of mutations in the components of the methylation machinery. We have discovered that a large majority of human tumors overexpress the DNMT3A2 isoform and have determined the cryo-EM structure of this isoform together with its non-catalytically active accessory protein, DNMT3B3 bound to a nucleosome. Unexpectedly, the heterotetrameric complex binds to the acidic patch present on all nucleosomes raising questions as to how specificity of methylation is obtained. As part of our work to define how DNA methylation is interpreted by DNA binding proteins, we investigated the influence of hemimethylation of CpG sites altered binding of CTCF. We were very surprised to find that while methylation of the motif strand inhibited binding as predicted, methylation on the opposite strand stimulated binding. The inherent asymmetry of hemimethylation may have consequences for stem cell differentiation. I will also discuss the development of new drugs and combinations to target abnormal methylation in cancer and present results of small clinical trials in patients to test these approaches.