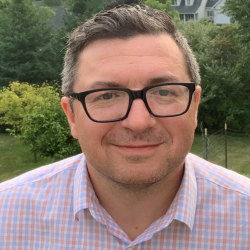 When: Tuesday, February 28, 2023
10:00 AM - 11:00 AM CT
Where: Simpson Querrey Biomedical Research Center, Simpson Querrey Auditorium, 303 E. Superior Street, Chicago, IL 60611 map it
Audience: Faculty/Staff - Student - Post Docs/Docs - Graduate Students
Contact: Beverly A Kirk (312) 503-5217

Group: Simpson Querrey Institute for Epigenetics Lecture Series
Category: Lectures & Meetings
Description:
The Simpson Querrey Institute for Epigenetics presents:
Karim-Jean Armache, PhD

Associate Professor
Department of Biochemistry and Molecular Pharmacology
NYU Grossman School of Medicine, NY
"Catalytic and Noncatalytic Mechanisms of Chromatin Modifiers"
Many mechanisms regulate chromatin structure to ensure that genes are active or silent. Some are considered epigenetic, ensuring the heritable transmission of a specific chromatin state. One of the mechanisms of chromatin regulation is based on posttranslational modifications of histones. Chemical groups are deposited, read, and removed by protein complexes that regulate chromatin structure. Histone modifications correlate with and sometimes directly affect critical processes such as transcription, replication, recombination, and repair. They are the subject of many clinical studies, as aberrant histone modifications and deregulation of enzymes responsible for their deposition occur in many cancers. These modifications rarely function in isolation, and there is often crosstalk between them that results in a coordinated transcriptional output. The central question in the field is to understand the regulation of histone modifications and associated molecular complexes, their role in gene expression, and their pathology in cancer. Another critical question is to discover and characterize the intricate relationships between different histone modifications and histone modifying enzymes at the mechanistic level. I will discuss our progress in understanding the roles of histone methylation and how it interfaces with other chromatin modifications that play critical roles in gene regulation.