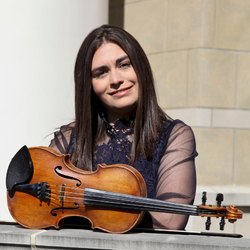 When: Monday, November 21, 2022
5:00 PM - 6:30 PM CT
Where: Wirtz Center for the Performing Arts, Struble Theater, 1949 Campus Drive; 10-30 Arts Circle Drive, Evanston, IL 60208 map it
Audience: Faculty/Staff - Student - Graduate Students
Cost: Event is free. Registration is required.
Contact: Franziska Lys (847) 491-8298

Group: MENA Languages Program
Category: Academic, Fine Arts, Lectures & Meetings
Description:
Mariela Shaker presents "My Bow Bends for Peace." Syrian American Mariela Shaker is an international award-winning violinist and motivational keynote speaker. Mariela strongly believes in music as a tool to bring people from different backgrounds together and to fashion peace and love in our world. Organized by the United Nations High Commission on Refugees (UNHCR), Mariela her debut recital at the Kennedy Center to commemorate World Refugee Day on June 20, 2015. President Obama honored her at the White House and named her Champion of Change for World Refugees.


The event is sponsored by MENA Languages Program, Buffett Institute for Global Affairs, and Edith Kreeger Wolf Distinguished Professor Endowment.