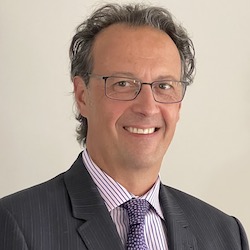 When: Thursday, December 8, 2022
10:00 AM - 11:00 AM Central
Where: Simpson Querrey Biomedical Research Center, Simpson Querrey Auditorium, 303 E. Superior Street, Chicago, IL 60611 map it
Audience: Faculty/Staff - Student - Post Docs/Docs - Graduate Students
Contact: Linda Mekhitarian Jackson (312) 503-5229

Group: Biochemistry & Molecular Genetics Seminar Series
Category: Lectures & Meetings
Description:
The Department of Biochemistry & Molecular Genetics presents:
Alex Toker, PhD
Professor of Pathology, Harvard Medical School
Chief, Division of Signal Transduction  
Associate Director, Cancer Research Institute
Beth Israel Deaconess Medical Center,
Investigator, Ludwig Center at Harvard
Presentation: "The PI 3-Kinase and AKT Signaling Pathway in Biology and Disease: From Discovery to Therapeutics "
Abstract: 
The PI 3-kinase (PI3K) and AKT signaling pathway plays a critical role in regulating all aspects of normal cellular physiology, and is also frequently deregulated in human pathophysiologies, most evidently in cancer and diabetes. Growth factors and hormones stimulate PI3K leading to the biosynthesis of the lipid-derived second messenger PIP3. In turn, PIP3 elicits the membrane recruitment of the protein kinase AKT, a transforming oncogene. Three AKT isoforms exist in humans encoded by distinct genes (AKT1, AKT2, AKT3), and although originally thought to function redundantly, many studies have shown that AKT isoforms have non-overlapping and unique roles in both normal physiology and disease. Similarly, genetic lesions in the PIK3CA and AKT oncogenes have been described, and many of the genes that contribute to PI3K/AKT pathway activation and also signal termination have been found to be altered in human cancers. Numerous drugs that inhibit PI3K as well AKT have been developed for therapeutic use in patients, and many of these are being evaluated in late-stage clinical trials.
During the seminar, I will review the major mechanisms that contribute to AKT hyperactivation in cancer. Genetic lesions in the PI3K/AKT pathway in human cancers will also be discussed, as well as efforts to target this pathway therapeutically, including our recent efforts aimed at developing new AKT degrader compounds. I will then present two projects in AKT biology and efforts designed to uncover collateral vulnerabilities in the PI3K/AKT pathway. First, I will present evidence for a metabolic pathway that is regulated by PI3K and AKT that drives Coenzyme A biosynthesis from the precursor Vitamin B5. In a distinct project, we have used a CRISPR-based genome wide synthetic lethal screen to identify genes that synergize with PI3K and AKT pathway inhibition to induce a cytotoxic response in cancer cells addicted to pathway hyperactivation, culminating in the design of combination therapy strategies for cancer patients with genetic aberrations in the PI3K and AKT pathway. 
 
Host: Dr. Issam Ben-Sahra, Assistant Professor of Biochemistry and Molecular Genetics