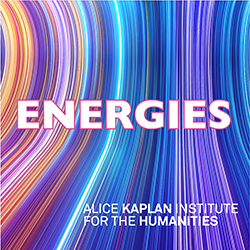 When: Friday, April 21, 2023
2:00 PM - 6:30 PM CT
Audience: Faculty/Staff - Student - Public - Post Docs/Docs - Graduate Students
Cost: Free; public welcome!
Contact: Jill Mannor (847) 467-3970

Group: Alice Kaplan Institute for the Humanities
Category: Academic
Description:
A screening of the film Crossings (2021) and panels with the film's director, featured activist, and scholars.
Exact times and location to be announced.
Crossings (2021), directed by Deann Borshay Liem, documents the peace activism of Women Cross DMZ, a group of international women peacemakers who walk across the demilitarized zone between North and South Korea to forge a path toward peace and reconciliation. Join us for the film screening and accompanying panels with the film director, featured activist, and scholars for a discussion on international feminist peace activism, Korea's history, and issues of militarism. 
International feminist peace organizing efforts are a form of energy generated by the longer efforts to bring peace to the Korean peninsula. This event will address how the organizing efforts intersect with the artistic and scholarly energies surrounding Women Cross DMZ and Korean American organizers who have worked hard to sustain a lively and engaged community of diasporic organizers. How do we approach and recreate the energies of past direct actions towards future ones to end militarization and war in the region? Given militarism's global environmental toll as one of the largest polluters, and the complex eco-system that has developed in the DMZ, how might we consider direct actions of Women Cross DMZ as a conservational effort towards a greener future?
Panelists
Deann Borshay Liem is a documentary film director and producer with over twenty years' experience. She is Producer, Director, and Writer of the Emmy Award-nominated documentary, First Person Plural (Sundance, 2000).
Christine Ahn is the Founder and Executive Director of Women Cross DMZ, a global movement of women mobilizing to end the Korean War and ensure women's leadership in peace building.
Suzy Kim is Associate Professor of Korean History at Rutgers University, New Brunswick and the author of Everyday Life in the North Korean Revolution, 1945-1950 (Cornell University Press, 2013).
 
Daniel Kim is Associate Professor of English and American Studies at Brown University and the author of The Intimacies of Conflict: A Cultural History of the Korean War (NYU Press, 2020).
This conversation is part of the Kaplan Humanities Institute's 2022-2023 Dialogue, ENERGIES: A year-long conversation about energies—personal, collective, planetary—from different humanistic perspectives.