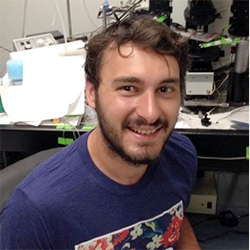 When: Friday, March 10, 2023
12:00 PM - 1:00 PM CT
Where: Ward Building, 5-230, 303 E. Chicago Avenue, Chicago, IL 60611 map it
Audience: Faculty/Staff - Student - Post Docs/Docs - Graduate Students
Contact: Emily Larsen (312) 503-1687

Group: Department of Neuroscience Seminars
Category: Lectures & Meetings
Description:
The Department of Neuroscience Presents:
"Striatal Circuits and Associated Behavior"
Maxime Assous, PhD
Associate Professor
Cardiff University, UK
Faculty Member
CMBN, Rutgers University
Abstract: The striatum is the main input structure of the basal ganglia (BG), the largest group of interconnected subcortical nuclei.  The BG is essential for voluntary motor control, several types of learning and other higher cognitive functions.  Among the most important recent discoveries about the functional organization of the striatum, is the existence of a highly diverse population of GABAergic interneurons whose anatomy, physiology and connectomes have been the principal focus of my research. In my talk, I will first review some of these principal findings including the discovery of 4 classes of novel GABAergic interneurons, their electrophysiological properties and their heretofore unknown highly selective and specific intrastriatal connectivity. In the next part, I will describe ongoing research investigating the extrinsic GABAergic inputs to striatal projection neurons and interneurons from subtypes of globus pallidus (GP) neurons. Using various viral transduction strategies and intersectional approaches to identify GP neurons on the bases of their genetic profile and specific cellular projection targets, I will show the selective innervation of different striatal projection neurons and interneurons by prototypic and arkypallidal GP neurons. Further, I will outline some preliminary results investigating the functional role of these striatal extrinsic inhibitory projections. Lastly, I will describe the impact of subtypes of nicotinic receptors, and specifically those that contain the beta-2 subunit, on regulating the activity of striatal projection neurons and cholinergic interneurons and their involvement in behaviors such as cognitive flexibility.