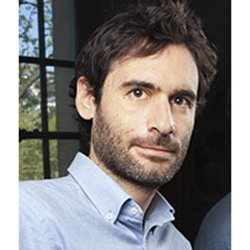 When: Friday, May 5, 2023
12:00 PM - 1:30 PM CT
Where: Robert H Lurie Medical Research Center, Baldwin Auditorium, 303 E. Superior, Chicago, IL 60611 map it
Audience: Faculty/Staff - Student - Post Docs/Docs - Graduate Students
Contact: Emily Larsen (312) 503-1687

Group: Department of Neuroscience Seminars
Category: Lectures & Meetings, Academic
Description:
The Department of Neuroscience Presents:
The James C. Houk Lecture in Motor Control: "An Action Field Theory of Peripersonal Space"
Giandomenico Iannetti, MD, PhD
Professor of Neuroscience
Istituto Italiano di Tecnologia (IIT)
University College London (UCL)
www.iannettilab.net
Abstract
Interactions occurring within the space near the body are studied in a wide range of disciplines, from ethology to philosophy. Indeed, many behavioral responses are enhanced when stimuli occur near the body. This makes evolutionary sense: a predator within striking distance is more relevant than one farther away. Neuroscientific studies in primates have suggested a physiological foundation for such behavioral modulations, leading to the concept of peripersonal space (PPS). But what is precisely meant when referring to PPS?
Predominant conceptual frameworks describe PPS as a single, distance-based, in-or-out zone within which stimuli elicit enhanced neural and behavioural responses. In this talk I will first argue that this intuitive framework is contradicted by neurophysiological and behavioral data. I will then show that PPS measures do not reflect representations of stimulus proximity, but rather the behavioral relevance of actions aiming to create or avoid contact between objects and the body. This reconceptualization of PPS as a set of graded egocentric fields describing the value of contact actions takes into account mainstream theories of action selection and behavior. I will finally demonstrate that egocentric response fields arise naturally from two simple and plausible assumptions about living agents: 1) they experience reward when they contact objects in the environment, and 2) they act to maximize reward. Egocentric peripersonal fields provide building blocks that together create a short-term map of the world near the agent in terms of its future states, analogous to the long-range allocentric fields of hippocampal place and grid cells. Together, allocentric and egocentric maps allow efficient interactions with a changing environment across multiple spatial and temporal scales.
About Dr. Iannetti
Giandomenico Iannetti directs the Neuroscience and Behaviour Laboratory at the Istituto Italiano di Tecnologia and is professor of Neuroscience at University College London (UCL). 
After receiving a PhD from "Sapienza" University (2003), he was postdoc at the University of Oxford (2003-2006), where he became lecturer (2006-2009) after being awarded the Royal Society University Fellowship. In 2009, he moved to UCL and became full professor of Neuroscience in 2014. In 2018, he started the Neuroscience and Behaviour Laboratory at the Italian Institute of Technology. His research has been funded by the Welcome Trust, the Royal Society, the European Research Council and the UK Medical Research Council.
About the James C. Houk Lecture in Motor Control
In 2020, the late James C. Houk, PhD, and his wife Antoinette made a bequest to establish the Dr. James Houk Graduate Fellowship in Neuroscience. Their gift provides funding to outstanding graduate students studying neurophysiology at Northwestern and supports the annual James C. Houk Lecture in Motor Control, presented by a renowned motor neuroscientist.
About James C. Houk, PhD
Dr. James C. Houk originally studied electrical engineering before receiving his PhD in physiology at Harvard University. As an assistant professor at Harvard, he studied Golgi tendon organs, muscle spindles and developed control models of muscle activation through neuronal circuits in the spinal cord.
Later, as an associate professor at Johns Hopkins Medical School, Houk began work on the central nervous system in behaving monkeys, work he continued at Northwestern University, after being recruited in 1978 as chair of the Department of Physiology (now Neuroscience). During this time, Houk also built a world-renowned systems neuroscience group within the department.
In 2001, after 23 years, Houk stepped down as chair to concentrate on multimodal approaches to studying how the nonlinear dynamics of microscopic modules in the brain give rise to its unique computational properties. He became particularly interested in the interplay between the basal ganglia, motor cortex and cerebellum.
Can't join in-person? Click here for the Zoom Webinar.