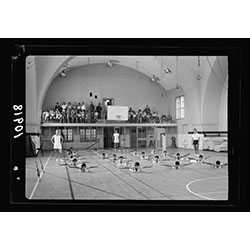 When: Monday, February 6, 2023
12:30 PM - 1:45 PM CT
Where: Harris Hall, 108, 1881 Sheridan Road, Evanston, IL 60208 map it
Audience: Faculty/Staff - Student - Public - Post Docs/Docs - Graduate Students
Contact: MENA

Group: Middle East and North African Studies
Category: Lectures & Meetings, Academic, Social, Multicultural & Diversity, Global & Civic Engagement
Description:
Join us for this week's MENA Monday event.  Lunch will be available.  Attending by Zoom is available upon request.
Speaker: Maayan Hilel, History, Northwestern University
Talk Title: Childhood in Transformation: Children, Consumption, and Nationalism in Mandate Palestine
Dr. Maayan Hilel will discuss her ongoing book project.  In Mandate Palestine, organizing wholesome activities and playspaces for children was expressly linked with the political goal of building a healthy nation.  Rather than looking at elite politics, this project investigates how historical shifts are manufactured and experienced in seemingly innocuous settings, like the playground.
Bio: Dr. Maayan Hilel is a lecturer and assistant director of the Crown Family Center for Jewish and Israel studies at Northwestern University.  She is a historian of the modern Middle East, specializing in the cultural and social history of Palestinian society. Her research focuses on aspects of leisure, popular culture, gender, and childhood.  In her current book project, she explores the emergence of modern leisure culture in Palestine's urban centers during the formative years of British rule and the role played by marginalized social groups such as women, children, workers, and villages in processes of cultural production and consumption.