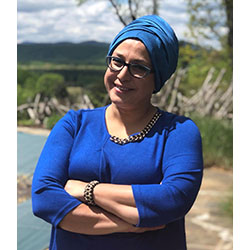 When: Monday, February 27, 2023
12:30 PM - 1:45 PM CT
Where: Harris Hall, 108, 1881 Sheridan Road, Evanston, IL 60208 map it
Audience: Faculty/Staff - Student - Public - Post Docs/Docs - Graduate Students
Contact: MENA

Group: Middle East and North African Studies
Category: Lectures & Meetings, Academic, Social, Religious, Multicultural & Diversity, Global & Civic Engagement
Description:
Join us for this week's MENA Monday event.  Lunch will be served.  This event will be in person, but a Zoom option is available upon request.
Speaker: Feyza Burak-Adli, Anthropology, Northwestern University
Talk title: FACULTY COLLOQUIUM | Sufi Ethics, Neoliberal Aesthetics, and Gendered Religious Authority in Turkey: The Case of Shaykha Cemalnur Sargut
Feyza Burak-Adli has performed ethnographic research in Turkey since 2011, with the Turkish Sufis of the Rifai order.  She will discuss her current book project, which examines the trajectories of modern Sufism in Turkey since the late nineteenth century.  Through an ethnohistorical survey of the Rifaiyye, she studies how Islamic traditions adopt new forms, practices, and institutions in articulation with ongoing socio-political transformations.  Burak-Adli draws attention to the recent revitalization of Sufism in Turkey among the cosmopolitan middle class with secular cultural orientation.  Highlighting the discursive varieties of Islamic traditions in Turkey, she explores the alternative modalities of piety that advocate for more gender-progressive Islamic norms.
Feyza Burak-Adli is a postdoctoral fellow in the Department of Anthropology at Northwestern University.  She received her Ph.D. in cultural anthropology from Boston University in 2020 with the dissertation "Trajectories of Modern Sufism: An Ethnohistorical Study of the Rifai Order and Social Change in Turkey."  She holds a joint MA in Anthropology and Women, Gender, and Sexuality Studies from Brandeis University, and an MA in English from Wake Forest University.  She worked as a lecturer in the Department of Women, Gender, and Sexuality Studies at the University of Virginia between 2016-2020.