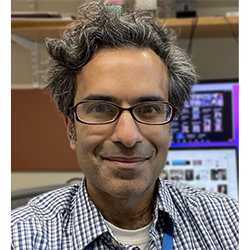 When: Thursday, May 25, 2023
3:30 PM - 4:30 PM CT
Where: Robert H Lurie Medical Research Center, Hughes Auditorium, 303 E. Superior, Chicago, IL 60611 map it
Audience: Faculty/Staff - Student - Post Docs/Docs - Graduate Students
Contact: Kiara Moore-Meza (312) 503-5602

Group: Center for Genetic Medicine
Category: Academic, Lectures & Meetings
Description:
The Center for Genetic Medicine Presents:
Scott Lecture Series | "Genetic Mechanisms of Autoimmune Diseases"
With Guest Speaker:
Soumya Raychaudhuri, MD, PhD
Professor of Medicine and Biomedical Informatics
Harvard Medical School
Coblyn and Brenner Distinguished Chair in Immunology 
Director, Center for Data Sciences
Brigham and Women's Hospital
Institute Member, Broad Institute 
A reception will follow the lecture at 4:30 p.m. in the Potocsnak Family Atrium (in-person only)
**This seminar is offered as a HYBRID event; join us IN-PERSON or ONLINE. There is no cost to attend, but please register and indicate your intended mode of attendance. 
Lecture Description:
Dr. Soumya Raychaudhuri will present his work mapping risk alleles for autoimmunity and his lab's efforts to link those alleles to disease mechanisms. Raychaudhuri's work focuses on rheumatoid arthritis, which is the prototypical autoimmune disease. Risk alleles for rheumatoid arthritis are found inside and outside of the major histocompatibility complex (MHC) locus. Alleles within the MHC locus largely map to human leukocyte antigen genes, and Raychaudhuri will discuss how these alleles alter the identity of T cells by influencing T cell-receptor sequences. He will also discuss other risk alleles and how these alleles alter gene regulation in the cellular context. 
About the Lecture Series:
This presentation is part of the Scott Lecture Series and is co-sponsored the Driskill Graduate Program in Life Sciences at Northwestern University. 
The Scott Lecture Series was created as an educational platform to appeal to the medical community. Funded under the generous bequest of Richard A. Scott, '68 MD, his wife, Anne Lesak Scott, and family established the lecture series in honor of Dr. Scott's lifelong interest in research and learning after his passing.