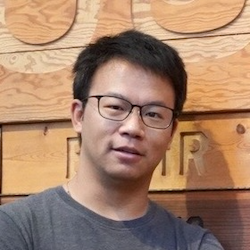 When: Friday, February 10, 2023
10:00 AM - 11:00 AM Central
Where: Robert H Lurie Medical Research Center, 1st Floor - Searle Seminar Room. Lurie 1-161, 303 E. Superior, Chicago, IL 60611 map it
Audience: Faculty/Staff - Student - Post Docs/Docs - Graduate Students
Contact: Linda Jackson

Group: BMG Faculty Candidate Seminars
Category: Academic
Description:
Computational Bioinformatics Faculty Candidate Seminar
Department of Biochemistry and Molecular Genetics
"Dissecting single-cell epigenomic regulations in mammalian brain and disorders"
Yang (Eric) Li, PhD
Postdoctoral Fellow
University of California, San Diego
Abstract:
Dr. Yang (Eric) Li is a postdoctoral research fellow at the University of California, San Diego working with Dr. Bing Ren. Before joining UCSD, Yang received his Ph.D. in computational biology & bioinformatics in 2018 at Tsinghua University in Beijing, where he developed state-of-art bioinformatics methods/tools and performed large-scale integrative analysis to uncover the evolution of species, the mechanism of post-transcriptional regulation and the epigenetic reprogramming of cancer. 
Dr. Yang (Eric) Li is broadly interested in understanding the epigenomic and transcriptional regulation at single-cell resolution, by combining the power of computational models/tools and high-throughput genomics approaches. Specifically, he recent lead comprehensive analyses of gene regulatory programs in both human and mouse brains from >3 million single-cell epigenetic and multi-omics profiles. These comprehensive analyses characterized the first atlas of cis-regulatory DNA elements (cCREs) in the mammalian brain, and uncovered a significant degree of evolutionary changes involving both sequence turnovers and regulatory divergence, which can assist in interpreting noncoding risk variants that contribute to various neurological diseases in humans. He further interrogated the regulatory codes and predicted the influence risk variants have on gene regulation using deep learning models. Besides, he has built a web portal called CATlas (cis-elements atlas, http://catlas.org) for exploring single-cell epigenetic datasets. His work provides a framework for studying the combined effects of genetic and epigenomic mechanisms in a cell-type-specific manner, which can be applied to the studies of a wide range of biological functions and disorders.
Host: Dr. Feng Yue, Professor of Biochemistry and Molecular Genetics and Pathology