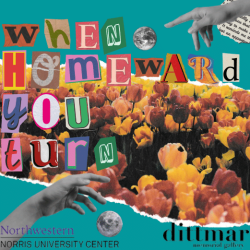 When: Saturday, January 28, 2023
All day
Audience: Faculty/Staff - Student - Public - Post Docs/Docs - Graduate Students
Contact: Debra Blade (847) 491-2348

Group: Dittmar Memorial Gallery
Category: Fine Arts
Description:
"When Homeward You Turn" - NOW ACCEPTING SUBMISSIONS HERE: https://lnkd.in/ew6AkppB

"When Homeward You Turn" is a meditation on how we are shaped by our complicated relationships to the abstraction of home. In this exhibit, members of our community will grapple with their own personal definitions of home and what it means to experience home as an ever-evolving concept. Through a plethora of mediums, each artist is invited to unravel the intricacies of their own stories and what home has meant to them both throughout their life and now. For after all, who are we if not a constellation of the people, places, and things that we call home?

This exhibit is open to all members of the campus and off-campus communities. Submit your artwork by Wednesday, February 22. Notification of acceptance will be sent by Wednesday, March 1.