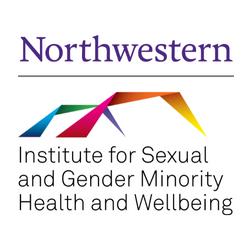 When: Thursday, April 27, 2023
12:00 PM - 1:00 PM CT
Where: 625 N Michigan Ave, Stonewall Conference Room, Suite 1400, Chicago, IL 60611 Chicago map it
Audience: Faculty/Staff - Student - Public - Post Docs/Docs - Graduate Students
Cost: This event is free and open to the public.
Contact: Andrew Principe

Group: Institute for Sexual and Gender Minority Health and Wellbeing (ISGMH)
Category: Academic
Description:
Northwestern University's Institute for Sexual and Gender Minority Health and Wellbeing will hold the April installment of its "Current Issues in LGBTQ Health" series on April 27th. The title of April's event will be "From The Ground Up: Revisiting Community-Engaged Research." Members of ISGMH's EDIT Program will speak on their experiences in community-engaged research.
Join us for "From The Ground Up: Revisiting Community-Engaged Research", an interactive session for scholars looking to enhance their community engagement practice. This session, led by both academic and community research partners, explores the importance of community engagement in research settings, including challenges to effective engagement and equitable partnership development. Attendees will leave with a better understanding of how to prioritize and center community needs.
Date: Thursday, April 27, 2023
Time: 12:00 - 1:00pm Central Time
Location: 625 N. Michigan Avenue, Suite 1400 Chicago, IL, 60611
This hybrid event is free and open to the public, but registration is required. Please complete the registration form using the link below to register. Lunch will be provided to in-person attendees who register by Monday, April 24th. 
About the Speakers:
Christopher Balthazar, PhD (he/him) is the executive director at TaskForce Prevention & Community Services, a grassroots community-based organization that provides culturally responsive health and wellness services primarily to LGBTQ+ adolescents and emerging adults of color in Chicago's Austin community area.  Prior to his current role, he worked as a research project director at Cook County Health for over a decade conducting HIV prevention and treatment studies among LGBTQ+ youth of color. He utilizes community-based participatory research approaches and implementation science strategies to better address the needs of LGBTQ+ youth of color from marginalized communities. He holds a Master's degree in clinical psychology from Roosevelt University and a doctoral degree in Community Psychology from National Louis University.
Dylan Felt, MPH (she/her) is a research project manager with the EDIT Program. Her research practice is grounded in the belief that marginalized communities have the power and expertise to be the architects of their own health. Her experience in community-engaged and community-based participatory research includes collaborating with trans Chicagoans to uplift complex stories of care, resilience, and survival in pandemic contexts, develop bottom-up approaches to community needs assessment, and evaluate novel programming to address key social determinants of transgender health. She is particularly interested in interrogating the ways in which extractive research economies commodify and tokenize community engagement, and in the potential for relational approaches to research partnerships to challenge these dynamics.
Erik Elías Glenn, MSW (he/él) is a senior project manager with the EDIT Program, focused on evaluation and technical assistance with community partners in addition to Chicago-based health and human service providers. He oversees evaluation of the HIV Services Portfolio of the Chicago Department of Public Health Syndemic Infectious Diseases Bureau. As a mixed-heritage, gay cis-man from southwest Detroit, he is passionate about upstream approaches that improve the health of those at the intersections of LGBTQ+ and BIPOC identities. In his most recent capacity as executive director of Chicago Black Gay Men's Caucus, he has contributed to various regional and community planning initiatives, such as Getting to Zero Illinois, Black Treatment Advocates Network, and Chicago Area HIV Integrated Services Council. This work is supported by his training in social service administration from the University of Chicago.
Gregory Phillips II, PhD (he/him) is the director of the EDIT Program and an assistant professor at Northwestern University Feinberg School of Medicine. A seasoned HIV epidemiologist and SGM population health researcher, he has nearly twenty years of experience in community-engaged and health equity research, focusing on minoritized communities. Dr. Phillips has led numerous funded projects, including Project Recognize, an NIAAA-funded grant aimed at improving SSOGI assessment through community-engaged research methods. Committed to teaching, he has co-developed courses on community-engaged research and advanced epidemiology at Northwestern, while offering trainings on LGBTQ+ evaluation, culturally responsive evaluation, and community-engaged research methods at various professional events. In January 2023, he was appointed Co-Director of the Community Health Research Concentration within NU's Program in Public Health.