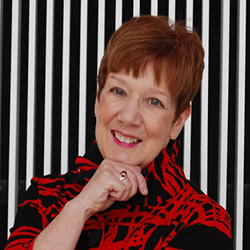 When: Tuesday, March 14, 2023
6:30 PM - 7:30 PM Central
Where: Norris University Center, McCormick Auditorium, 1999 Campus Drive, Evanston, IL 60208 map it
Audience: Faculty/Staff - Student - Public - Post Docs/Docs - Graduate Students
Cost: Free and open to the public.
Contact: CIERA Astrophysics (847) 491-8646

Group: CIERA - Annual Public Lecture Series
Category: Lectures & Meetings
Description:
Northwestern University's Center for Interdisciplinary Exploration and Research in Astrophysics (CIERA) and the international LIGO-Virgo-KAGRA Collaboration Presents: 
-- Free and open to the public.
-- All are welcome! Content tailored to a general audience.
Dr. Gabriela Gonzalez is one of the founding members of the LIGO Scientific Collaboration, and one of four scientist who presented the first detection of gravitational waves to the public. In 2011 she was elected as spokesperson of the LIGO Scientific Collaboration, a position she served until 2017. She is Boyd Professor in the Department of Physics and Astronomy at Louisiana State University where her research focuses on the detection of gravitational waves.
Event Description
Talk Title: Gravitational Waves, Black Holes and the Machines that Detect them
On September 14, 2015, the LIGO detectors in Hanford, Washington and Livingston, Louisiana in the US registered for the first time ever a loud gravitational wave signal traveling through Earth, created more than a billion years ago by the merger of two black holes. Another spectacular signal was detected by LIGO and the Virgo detector in Europe in 2017, produced by the collision of two neutron stars giving birth to a black hole, also generating electromagnetic waves (light!) detected by many telescopes and helping us understand the origin of gold. In only a few years from the first detection, there are now more than 90 discovered signals from mergers of black holes and/or neutron stars - this is the era of gravitational wave astronomy. This was possible with the engineering marvels that are the instruments that detect the tiny distortions in space time, built by hundreds of scientists over decades. We will describe the history and details of the observations and the detectors, and the gravity-bright future of the field. 
To receive updates about this and other CIERA Events, please subscribe to our e-mail list.