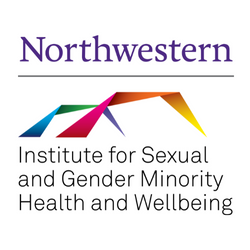 When: Thursday, June 15, 2023
12:00 PM - 1:30 PM CT
Where: 625 N Michigan Ave, Suite 1400, Stonewall Conference Room, Chicago, IL 60611 Chicago map it
Audience: Faculty/Staff - Student - Public - Post Docs/Docs - Graduate Students
Cost: This panel event is free and open to the public.
Contact: Andrew Principe

Group: Institute for Sexual and Gender Minority Health and Wellbeing (ISGMH)
Category: Academic, Multicultural & Diversity, Global & Civic Engagement
Description:
ISGMH invites you to join us for this year's virtual Pride Panel. Each year, we revisit the topic, "What Does Pride Mean to Us?" highlighting different groups of voices within the LGBTQ community. We are thrilled to invite Ramona Beltran, Ph.D., who will lead a panel of indigenous SGM speakers on our topic this year. The title of this year's panel is "Return to the Sacred: Pride as Medicine."
This event is co-sponsored by the ISGMH Equity Committee.
 Date: Thursday, June 15, 2023
Time: 12:00pm Central Time
This panel event is free and open to the public, but registration is required. Lunch will be provided to attendees who register by Monday, June 12th. 
About the Speakers: 
Ramona Beltran, PhD - University of Denver | Graduate School Of Social Work | Associate Professor
Associate professor. Dancer. Academic Director. Producer. Mother. An award-winning public intellectual with global initiatives in historical trauma and healing and storytelling methodologies that have been cited by researchers and practitioners alike. 
In her 20 years of professional experience, spanning the United States to New Zealand, she has worked alongside institutions and Indigenous and Latinx communities, spotlighting solutions that are present in our creative and cultural-driven modalities. Her contributions have been invited by distinguished institutions including the Centers for Disease Control and Prevention, the White House Office of the Vice President, and Harvard University as well as prominent cultural institutions including the Denver Art Museum, History Colorado, and the Latino Cultural Arts Center. Her research has been funded by the National Institutes of Health, National Institutes of Mental Health, the National Libraries of Medicine and Colorado Department of Public Health and Environment.
Dr. Beltran is a fiercely loving mother of three and is a multiracial Chicana of Indigenous descent. She acknowledges that all the earth has an Indigenous name, and a community meant to steward it.
Elton Naswood - SWIWC Two Spirit/LGBTQ Advisory Council | International Indigenous Working Group on HIV/AIDS
Elton is of the Near to the Water People Clan, born for the Edge Water People Clan, his maternal grandfather's clan is of the Mexican People, his paternal grandfather's clan is of the Tangle People, this is how he is Navajo, Dine. He is originally from Whitehorse Lake, New Mexico, on the Navajo Reservation and currently resides in Denver, Colorado.
Mr. Naswood was the Co-Coordinator for the National Native HIV Network and formally a Senior Program Analyst in the Capacity Building Division at the Office of Minority Health Resource Center. He previously was a Capacity Building Assistance Specialist at the National Native American AIDS Prevention Center and was formally the Founder and Program Coordinator for the Red Circle Project, AIDS Project Los Angeles.
He is currently a member of SWIWC's Two Spirit/LGBTQ Advisory Council and the U.S. Representative Leader for the International Indigenous Working Group on HIV/AIDS. 
Mr. Naswood received his Bachelors of Arts Degree in Sociology and American Indian Justice Studies from Arizona State University and attended the graduate degree program in American Indian Studies at the University of California, Los Angeles. 
Matthew Town, PhD - Portland State University | School of Social Work | Assistant Professor
Before joining the School of Social Work at PSU, I was an Assistant Professor at Pacific University, a Research Assistant Professor at the University of Arizona, and briefly held a post-doc position at the University of California, San Diego. I've also held positions at the Great Plains Tribal Epidemiology Center and the Northwest Tribal Epidemiology Center as well as the Department of Disease Control and Prevention for Washington County, Oregon. 
As an Indigenous/multiracial scholar, my scholarship is committed to interrupting legacies of trauma that affect marginalized communities. I do this work by centering culture and diversity science to the health and well-being of people. My on-going scholarly interests include stress coping processes, resilience, Indigenous methodologies, health and well-being, and social and cultural determinants of health.
As a long time member of the Pacific Northwest, I enjoy the outdoors including camping, hiking, and kayaking. I also enjoy obstacle course races, reading, and family.