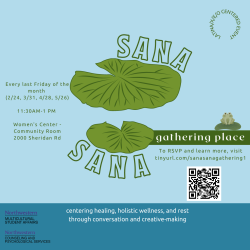 When: Friday, March 31, 2023
11:30 AM - 1:00 PM CT
Where: Women's Center, Community Room, 2000 Sheridan Rd., Evanston, IL 60208 map it
Audience: Student - Graduate Students
Contact: Claritza Maldonado

Group: Multicultural Student Affairs (MSA)
Category: Multicultural & Diversity
Description:
Start off your Spring Quarter with some community and joy! Multicultural Student Affairs (MSA) and Counseling and Psychological Services (CAPS) presents, SANA SANA, a monthly gathering space and wellness series centering Latina/e/x/o-identifying students to make, feel, and be. SANA SANA is a healing phrase used when remedying pain or a wound that honors connection across geographies and generations. SANA SANA will include conversation, creative workshops, and space for rest, joy, and sustenance in relation and support with one another. In facilitating and co-creating this space with students, we hope to support community building, themes related to wellness, intersectional identities, and lived experiences. 
Food will be provided. Graduate and undergraduate students welcome. 
For those of us who joined us for our first gathering, thank you and we hope to have you join us again. For folks who missed the first gathering, you are welcome to join us for the next one. 
Whether returning or new, please RSVP by March 28th so we can have an accurate headcount for food and the space. You are still welcome to RSVP after March 28th, but we cannot guarantee enough food, but will try our best.
Our third gathering will be Friday, March 31st 11:30-1 PM at the Women's Center Community Room. All gender identities are welcome. 
All following gatherings will be the last Friday of each month. 
Learn a little more about SANA SANA Gathering Place's history at NU here: https://dailynorthwestern.com/2018/03/05/campus/latinx-healing-group-seeks-build-community-take-steps-self-care/