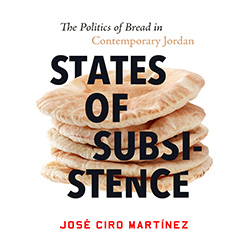 When: Monday, May 8, 2023
12:30 PM - 2:00 PM CT
Where: Kresge Hall, 1-515, 1880 Campus Drive, Evanston, IL 60208 map it
Audience: Faculty/Staff - Student - Post Docs/Docs - Graduate Students
Cost: free
Contact: MENA

Group: Middle East and North African Studies
Category: Lectures & Meetings, Academic, Social, Multicultural & Diversity, Global & Civic Engagement
Description:
The Spring Quarter 2023 New Directions in Middle East and North African Studies talk will be given by José Ciro Martínez of the University of York.  The discussants will be Keegan Terek and Nicholas Bascuñan-Wiley. 
Named a 2022 Best Book of the Year by Foreign Policy.
On any given day in Jordan, more than nine million residents eat approximately ten million loaves of khubz 'arabi—the slightly leavened flatbread known to many as pita. Some rely on this bread to avoid starvation; for others it is a customary pleasure. Yet despite its ubiquity in accounts of Middle East politics and society, rarely do we consider how bread is prepared, consumed, discussed, and circulated—and what this all represents. With this book, José Ciro Martínez examines khubz 'arabi to unpack the effects of the welfare program that ensures its widespread availability.
Drawing on more than a year working as a baker in Amman, Martínez probes the practices that underpin subsidized bread. Following bakers and bureaucrats, he offers an immersive examination of social welfare provision. Martínez argues that the state is best understood as the product of routine practices and actions, through which it becomes a stable truth in the lives of citizens. States of Subsistence not only describes logics of rule in contemporary Jordan—and the place of bread within them—but also unpacks how the state endures through forms, sensations, and practices amid the seemingly unglamorous and unspectacular day-to-day.
José Ciro Martínez is Lecturer in Politics at the University of York and Junior Research Fellow at Trinity College, University of Cambridge.  He has been the recipient of the Watson, Fulbright, and Gates Cambridge fellowships and has conducted fieldwork in Jordan, Syria, Morocco, and Spain.  He received his PhD in Politics from the University of Cambridge.
Lunch will be served at the event.