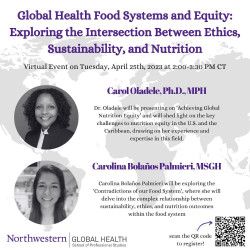 When: Tuesday, April 25, 2023
2:30 PM - 3:30 PM Central
Where: Online
Webcast Link
Audience: Faculty/Staff - Student - Public - Post Docs/Docs - Graduate Students
Cost: 0.00
Contact: Master of Science in Global Health

Group: MSGH SLC
Category: Academic
Description:
Join the Master of Science in Global Health SLC for a discussion on the intersection of nutrition and health. Dr. Carol Oladele and Carolina Bolaños Palmieri will provide insight on the challenges of nutrition equity and contradictions in sustainability of nutrition programs. 

Dr. Carol Oladele is an Assistant Professor in the Section of General Internal Medicine, core faculty at the Equity Research and Innovation Center and Center for Neuroepidemiology and Clinical Neurological Research at Yale School of Medicine. Dr. Oladele's research focuses on social determinants of cardiovascular health disparities, with specific focus on the role of nutrition, healthcare quality, food, and built environments. She has expertise in the development of dietary assessment methodologies for African descent populations. Her research aims to generate evidence to support health policies and interventions to improve cardiovascular outcomes among racial/ethnic and immigrant populations domestically and globally. Dr. Oladele's current work examines the role of food insecurity and ultra-processed food on disparities in hypertension incidence and control.
Carolina Bolaños Palmieri is the CFHI Director of Programs & Safety. Through her work, she oversees the development of high-quality, ethical, and appropriately scoped programs, both virtual and place-based. She also directs CFHI's safety and risk management work. Carolina is also the associate director for the InterAmerican Center for Global Health, CFHI's partner in Costa Rica and the first global health hub in Central America. Additionally, she serves as the executive director for Advance Health Education Costa Rica and an adjunct instructor at the University of Maryland Graduate School. Carolina combines her work in global health education with her background in Nutrition. As a registered dietitian, she advocates for using food to bridge sustainability, health, and equity through her work in sustainable food systems and food policy. She is a researcher for INFORMAS Costa Rica and the Education and Research Coordinator for the NGO Alimentalistas, an organization dedicated to fighting food waste, where she additionally sits on the board of directors.
Carolina has a Bachelor's and a licentiate degree in Nutrition from the University of Costa Rica and holds a master's degree in Global Health from the Barcelona Institute for Global Health and the University of Barcelona.