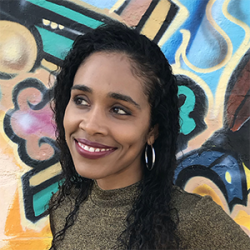 When: Thursday, May 18, 2023
3:30 PM - 4:30 PM Central
Where: Block Museum of Art, Mary and Leigh, 40 Arts Circle Drive, Evanston, IL 60208 map it
Audience: Faculty/Staff - Student - Post Docs/Docs - Graduate Students
Contact: CIERA Astrophysics (847) 491-8646

Group: CIERA - Interdisciplinary Colloquia
Category: Lectures & Meetings
Description:
Nia Imara is an artist and astrophysicist whose body of work reflects her love for vibrant color, people, and their stories.  Nia studied astrophysics at UC Berkeley and did her postdoctoral research at Harvard University.
She is currently a professor of astronomy at UC Santa Cruz, where she investigates how stars are born in the Milky Way and other galaxies throughout the universe.  Nia is the founder/director of Onaketa, a nonprofit that provides free STEM tutoring and other educational resources to black and brown youth.
Host: Vicky Kalogera
Talk Title: Interconnected: A Journey Through Inner and Outer Space
Talk Abstract:
How do art and science intersect?  As an astronomer and visual artist, it's a question I'm often asked.  My astronomy research aims to illuminate how stars are born in vast "stellar nurseries" residing in our Milky Way Galaxy and beyond. My art is steeped in black culture and centers on people. How do the two go together?  In this talk, I will invite the audience on a journey through inner and outer space and share some of what inspires me as an artist-scientist.  In doing so, we will explore some potential connections between art and science and how culture plays a major role in both of these uniquely human endeavors.