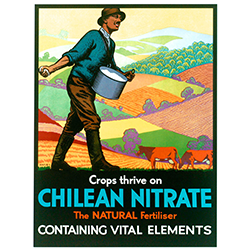 When: Tuesday, April 4, 2023
12:30 PM - 2:00 PM Central
Where: Crowe Hall, 1-132, 1860 Campus Drive, Evanston, IL 60208 map it
Audience: Faculty/Staff - Student - Post Docs/Docs - Graduate Students
Cost: free
Contact: Margaret Sagan

Group: Latin American and Caribbean Studies
Category: Academic, Social, Lectures & Meetings, Global & Civic Engagement
Description:
Lunch will be served at this free presentation by Joshua Frens-String, an Assistant Professor of History at the University of Texas at Austin.
Description:
As the First World War erupted, a new chemical process, discovered in the lab of German chemist Fritz Haber, sent shockwaves through the world of agricultural science. The "Haber-Bosch" process opened the way to the production of low-cost nitrogen fertilizer on a previously unimaginable scale by turning atmospheric nitrogen into synthetic ammonia. Some declared that food scarcity would quickly become a problem of the past. But in Chile, a country whose economy was built around extracting and exporting sodium nitrate to meet global demand for commercial fertilizers, the Haber-Bosch process set off alarms. Would this new chemical invention make Chile's mineral nitrate industry redundant? 
Most historical scholarship on Chile's nitrate boom has answered that question in the affirmative—and without much qualification. However, in revisiting that argument, this talk will consider how the Chilean state sought to remake its nitrate economy in the shadow of Haber-Bosch. Drawing on a recently opened trove of archival material on the nitrate industry, held at Chile's National Archive, it reconstructs how Chilean officials collaborated with foreign capital to modernize production methods, rationalize labor, and promote the consumption of mineral nitrate of soda in new parts of the agricultural world, including domestically. Among other things, I will consider how Chilean economic officials created an uneasy alliance with a global mining giant, Guggenheim Brothers, and the distribution conglomerate, W.R. Grace & Co., to present Chilean nitrates as key to the revival of depressed cotton production in the US South and elsewhere. Through the hemispheric exchange of "all-natural" nitrogen, those involved in the Chilean nitrate trade even helped model the benefits of an inter-American economy rooted in economic complementarity and reciprocity—two ideas later associated with FDR's Good Neighbor Policy. In the end, the forgotten story of Chilean nitrates after Haber-Bosch expands our understanding of the "Green Revolution" and its origins while also raising new questions about Latin America's longstanding dependence on resource extraction.
Bio:
Joshua Frens-String is a historian of modern Latin America.  He received his Ph.D. in History from New York University in 2015.  His first book Hungry for Revolution: The Politics of Food and the Making of Modern Chile (University of California Press, 2021) explores the role of food politics and policy in the rise and fall of Chile's Popular Unity (UP) revolution. Prior to joining the faculty at UT, he was a Postdoctoral Teaching Fellow in NYU's Core Curriculum program and an editor of the NACLA Report on the Americas, one of the most widely-read English-language quarterlies on Latin America and its relationship with the United States. He has also served as managing editor of the Radical History Review and as a researcher with the Open Society Institute's Latin America Program. His research and teaching interests include revolution in modern Latin America, popular politics, labor history, global agricultural history, food politics, and U.S.-Latin American relations.