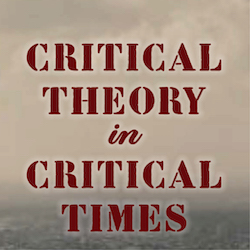 When: Friday, May 19, 2023
3:30 PM - 6:30 PM CT
Where: Harris Hall, 108, 1881 Sheridan Road, Evanston, IL 60208 map it
Audience: Faculty/Staff - Student - Public - Post Docs/Docs - Graduate Students
Cost: $0
Contact: Phil Hoskins (847) 491-3864

Group: Critical Theory
Category: Academic
Description:
2022-2023 Critical Theory in Critical Times Workshop
Epistemology of Protest: Silencing, Epistemic Activism and the Communicative Life of Resistance,with JOSÉ MEDINA
The 2023 Critical Theory in Critical Times annual series workshop will focus around the work of José Medina (Walter Dill Scott Professor of Philosophy at Northwestern University) and, in particular, his forthcoming book The Epistemology of Protest: Silencing, Epistemic Activism and the Communicative Life of Resistance. José Medina will discuss this work with four commentators (TBD).
The Epistemology of Protest offers an account of communicative and epistemic resistance against injustice in street activism and protest movements. The book examines the communicative power of protest to break social silences, to disrupt complicity and insensitivity, and to create new forms of social sensibility. It defends a pluralistic and contextualist communicative approach to protest that pays special attention to the polyphony of protesting publics and the radical political imagination contained within protest movements. This pluralistic and contextualist approach focuses on protest movements that fight for the liberation of oppressed communities, especially Abolitionism, the Civil Rights movement, Black Lives Matter, the Queer Liberation movement, and contemporary feminist movements. The book analyzes the communicative and epistemic injustices that protest acts and protest movements face, examining different kinds of silencing that protesting voices face and how those different forms of silencing can be resisted. The book also identifies four different communicative dimensions in protest acts and analyzes the different kinds of expressive and speech acts that can be performed in these four communicative dimensions: the expressive/performative, the testimonial, the evaluative, and the prescriptive dimension. Along these dimensions, the book analyzes different forms of communicative power and communicative agency: the creative power to constitute a collective (communicative and epistemic) agent, the communicative power/agency to give collective testimony (including radical testimony), the communicative power/agency to develop critical discourses (including radical critique), and the communicative power/agency to generate prescriptive orientations and demands for justice (including radical demands). The book's theory of protest examines the obligations that society and its institutions have to give proper uptake to protests and to communicatively engage with protesting publics in all their diversity, without excluding or marginalizing radical voices and perspectives. Throughout the book, communicative and epistemic arguments are given for the value of imagining with protest movements and of taking seriously the radical political imagination exercised in social movements of liberation.
Reading Group Information
We invite faculty and graduate students to participate in a reading group on Friday May 12th, in advance of the May 19, 2023 workshop. A copy of the book will be available to participants. If you would like to participate, please contact Critical Theory Graduate Assistant Bipin Sebastian (BipinSebastian2024@u.northwestern.edu).