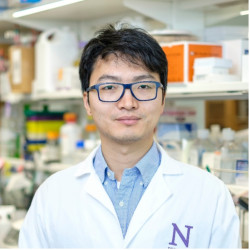 When: Friday, April 28, 2023
10:00 AM - 11:00 AM CT
Where: Robert H Lurie Medical Research Center, Searle Seminar Room, 303 E. Superior, Chicago, IL 60611 map it
Audience: Faculty/Staff - Student - Post Docs/Docs - Graduate Students
Contact: Beverly Kirk (312) 503-5217

Group: Biochemistry & Molecular Genetics Seminar Series
Category: Lectures & Meetings, Academic
Description:
The Department of Biochemistry and Molecular Genetics invites faculty, students, and staff to attend a thesis seminar by Bin Zheng, Graduate Student in the Shilatifard Lab.
"Distinct CDK9-containing complexes in transcriptional regulation"
Abstract:
The regulation of gene expression catalyzed by RNA Polymerase II (Pol II) requires a host of accessory factors to ensure cell growth, differentiation, and survival under environmental stress. Transcription by Pol II is tightly regulated at different stages including initiation, promoter-proximal pausing, elongation, and termination. The positive transcription elongation factor (P-TEFb), which consists of a kinase subunit CDK9 and a regulatory subunit Cyclin T, is a key regulator in this process that functions through phosphorylating the C-terminal domain (CTD) of paused Pol II at promoter and releasing them into the productive elongation stage at gene body. Several distinct CDK9-containing complexes existing in human cells such as the bromodomain and extra terminal domain (BET) family protein BRD4-P-TEFb and the Super Elongation Complex (SEC)-P-TEFb function differently in regulating transcription and need to be further elucidated. The presentation will focus on examining roles of these CDK9-containing complexes under different cellular conditions as well as a finding of an unexpected way of transcriptional regulation by BRD4-P-TEFb that differs from the canonical view.
Add to Calendar