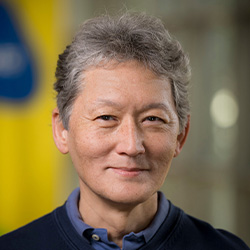 When: Monday, October 23, 2023
10:00 AM - 11:00 AM CT
Where: Simpson Querrey Biomedical Research Center, Simpson Querrey Auditorium, 303 E. Superior Street, Chicago, IL 60611 map it
Audience: Faculty/Staff - Student - Post Docs/Docs - Graduate Students
Contact: Beverly Kirk (312) 503-5217

Group: Simpson Querrey Institute for Epigenetics Distinguished Lectureship
Category: Lectures & Meetings
Description:
The Simpson Querrey Institute for Epigenetics presents:
James T. Kadonaga, PhD

Amylin Endowed Chair in Lifesciences Education and Research Distinguished Professor Department of Molecular Biology, UCSD
"Explorations in Chromatin Dynamics and Transcription by RNA Polymerase II"
The research in our laboratory is focused on the mechanisms of the regulation of transcription by RNA polymerase II. This work includes the analysis of the DNA sequence elements, transcription factors, and chromatin-based functions that influence gene activity. In the area of basal transcription, we have been studying the DNA elements in the core promoter, which is the stretch of DNA that directs the initiation of transcription. The core promoter is sometimes referred to as the 'gateway to transcription', as it is the site of convergence of the signals that lead to the initiation of transcription. In this work, we have been exploring the use of machine learning for the identification and analysis of core promoter elements. In the area of chromatin dynamics, we are currently studying the biological functions of non-histone chromosomal proteins. It is our hope that these studies will collectively lead to a better fundamental understanding of the transcription process in the context of the natural chromatin template.