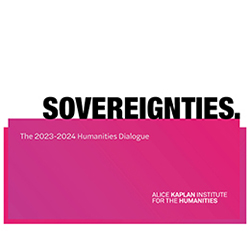 When: Wednesday, February 7, 2024
4:00 PM - 5:30 PM CT
Audience: Faculty/Staff - Student - Public - Post Docs/Docs - Graduate Students
Cost: Free! Public welcome.
Contact: Jill Mannor (847) 467-3970

Group: Alice Kaplan Institute for the Humanities
Category: Academic, Lectures & Meetings, Global & Civic Engagement
Description:
Save the date for the Winter Keynote of the Kaplan Humanities Institute's SOVEREIGNTIES Dialogue. Speakers, details, and late afternoon timeframe will be added as confirmed.
SOVEREIGNTIES
A year-long conversation that mobilizes humanities research to question, understand, and reimagine sovereignties—bodily, artistic, intellectual, geopolitical—and their global histories, contemporary challenges, and possible futures.
This Dialogue series seeks to examine Sovereignties in many dimensions. Restrictions on bodily autonomy—from borders to identity to reproductive rights—are pressing in familiar and unfamiliar ways. Collectives and individuals are practicing sovereignty beyond state formations—in gardens, on floating cities, in activist solidarities—even while confronting the consequences of pollution that seeps into bodies and foods. The Kaplan Humanities Institute Sovereignties Dialogue will contend with these contradictions, the histories that re-emerge in the present, and the forms of belonging forged against, within, and beyond the state.
Bodies  •  States and Non-States  •  Nations  •  Biopolitics  •  Belonging  •  Entanglement  • Erasure  •  Disenchantment   •  Data  •  Lands  •  Libraries  •  Citizens  •  Propaganda  • Censorship  •  Food  •  Repatriation
The goal of the Dialogue is to build a multi-layered conversation showcasing ways that different humanities- and art-related approaches shape the debate around a timely subject. We seek to support scholars, public intellectuals, artists, and activists from a variety of disciplines, geographic areas of focus, and historical periods.
Please join us for this year-long conversation! 
humanities.northwestern.edu/about/events/sovereignties-23-24