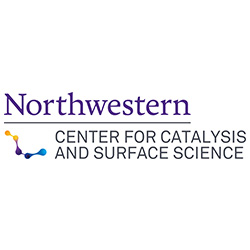 When: Friday, December 1, 2023
12:00 PM - 1:00 PM CT
Where: Ryan Hall, 4003, 2190 Campus Drive, Evanston, IL 60208 map it
Audience: Faculty/Staff - Post Docs/Docs - Graduate Students
Contact: Kimberly Leroi (847) 467-3396

Group: Center for Catalysis and Surface Science
Category: Lectures & Meetings
Description:
Center for Catalysis and Surface Science (CCSS) Monthly Meeting
When: Friday, December 1, 2023 | 12:00 – 1:00pm
Where: Ryan Hall, 4003 | Online via Zoom
Zoom Link: https://northwestern.zoom.us/j/93205722075 
Title: "Oxygen from water splitting resolved by electron paramagnetic resonance"
Speaker: Bryan Hunter, Northwestern University, Dept. of Chemistry
Abstract: Electrocatalytic water oxidation is a key transformation in many strategies designed to harness solar energy and store it as chemical fuels. As half of the overall water-splitting reaction, it is kinetically slow and requires significant overpotentials to match the current efficiency of hydrogen electrodes. Understanding the mechanism(s) of the best electrocatalysts for water oxidation has been a fundamental chemical challenge for decades, and progress has been made using in situ methodologies. We quantitate evolved dioxygen isotopologue composition via gas-phase EPR spectroscopy to elucidate the mechanisms of water oxidation on metal oxide electrocatalysts with high precision. Isotope fractionation is paired with computational and kinetic modelling, showing that this technique is sensitive enough to differentiate O-O bond forming steps. Strong agreement between experiment and theory indicates that for the layered double hydroxide—one of the best earth-abundant electrocatalysts to be studied—water oxidation proceeds via a dioxo coupling mechanism rather than a hydroxide attack. EPR detection of O2 provides new information about perhaps the most important chemical reaction for sustaining a liveable planet.
The Center for Catalysis and Surface Science (CCSS) monthly meetings host speakers, as well as provide tutorials,  research updates and facilitate team collaboration. 
The mission of the Center for Catalysis and Surface Science (CCSS) is to promote interdisciplinary research fundamental to the discovery, synthesis, and understanding of catalysts and catalytic reactions essential to modern society. As a part of the Paula M. Trienens Institute for Sustainability and Energy, CCSS applies fundamental advances in catalysis science towards applications in alternative fuels, abatement of harmful emissions, resource recovery concepts, new processing routes, and many other strategies towards making chemicals more sustainable.