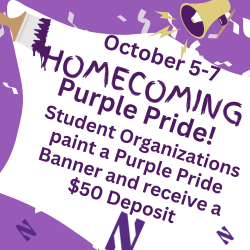 When: Monday, September 25, 2023
10:30 AM - 9:00 PM CT
Where: Norris University Center, ARTica Studios, 1999 Campus Drive, Evanston, IL 60208 map it
Audience: Student - Graduate Students
Cost: FREE
Contact: Debra Blade (847) 491-2307

Group: ARTica Studios
Category: Fitness & Recreation
Description:
Homecoming 2023 Students Organizations you can receive a deposit of $50 when you create a Homecoming Banner to show off Purple Pride and Spirit!
Sign up in ARTica Studios and pick up the free supplies (includes paints, brushes, banner) promotion begins Wednesday September 20 thru Monday October 2.  All completed banners must be returned to ARTica Studios by Noon on Tuesday October 3.  Banners will be on display all over Norris Center- October 3-8.
Banners must have the organization, name, logo, and the words "Homecoming 2023" or "Northwestern Homecoming 2023."  NO OTHER TEXT!
Organizations must provide a full chartstring to receive the transfer deposit of $50.
This activity is sponsored by Northwestern Alumni Relations and Development.
Please note space is limited to 20 organizations.