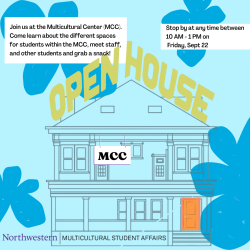 When: Friday, September 22, 2023
10:00 AM - 1:00 PM CT
Where: 1936 Sheridan Road, Evanston, IL 60208 Evanston map it
Audience: Student - Graduate Students
Contact: Multicultural Student Affairs (847) 467-6200

Group: Multicultural Student Affairs (MSA)
Category: Multicultural & Diversity
Description:
Multicultural Student Affairs (MSA) invites BIPOC students to stop by anytime between 10:00 am - 1:00 pm on Friday, September 22 at Multicultural Center (MCC) to see our space and meet the staff. Grab a free snack and learn about the resources provided by MSA.
What is BIPOC? And how/why do we use it at MSA?
BIPOC is an acronym that stands for Black, Indigenous and People of Color. BIPOC is a term inclusive of all students of color, including African/African American, Latinx/e, Caribbean, APIDA (Asian, Pacific Islander, Desi American), Middle Eastern and North African (MENA)/Arab, Indigenous/Native and multiracial students. BIPOC as a term attempts to center the compounding systems and histories that inform centering Black liberation and Indigenous sovereignty. Acronyms like BIPOC are always changing, evolving, and imperfect, but attempts to name an inclusive and intersectional space for students of color who are historically marginalized and underrepresented. This word is not the end of the work.